Fishermen trial technology to protect marine habitats
Trials show that new technology is allowing South West fishermen to continue to fish in their local area while protecting the marine habitats in Lyme Bay, it was revealed today.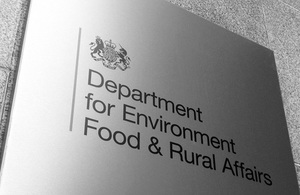 The news was revealed by Environment Secretary Caroline Spelman and Fisheries Minister Richard Benyon who visited a group of fishermen in West Bay, Dorset, who took part in the Marine Management Organisation (MMO)trials that were launched earlier this year, funded by Defra. 
By rolling out technology to help fishermen prove that they are not fishing in vulnerable or protected areas, local fishermen can continue to operate in less sensitive areas of Lyme Bay rather than stopping fishing in the area altogether. 
The local Lyme Bay fishermen, who are the first to trial a GPS positioning system similar to that used by lorry drivers, are able to prove exactly where their vessel is operating at all times. They can therefore prove that they are not fishing in areas of Lyme Bay that have been closed to bottom trawling to protect the seabed from possible damage. 
Environment Secretary Caroline Spelman said: 
"This groundbreaking equipment proves just how innovative the UK fishing industry is. 
"By embracing new technology it shows that the sector is ready and able to respond positively to the need to protect the marine environment while continuing to make a living from the sea. 
"Fishermen in the area have been central to the development of this solution, and we hope to see this local involvement continue."
Following the MMO's evaluation of this trial, expected in Spring 2012, the Government hopes that fishermen around the country will be able to adopt this new technology to help ensure that fishing can continue to take place without damaging sensitive marine habitats.
The Environment Secretary and the Fisheries Minister also travelled to Samways Fish Merchants in Weymouth. 
The MMO recently awarded Samways a European Fisheries Fund grant totalling £362,460. 
This money will be used by the local company to expand their processing business in Bridport and develop their products further. Work has only just begun on the project, and the upgrade to their facilities will provide: 
Improved quality and monitoring systems;
Increased ability to provide high value niche products;
Reduced environmental impact;
Quicker delivery of local landings to market; and
Increased production capacity and efficiency. 
The project will also enable the company to sustain the existing level of employment and create six additional full-time jobs. 
Caroline Spelman added: 
"I am delighted this funding has been awarded to help Samways grow and create more jobs in the local area."
Published 1 December 2011