Press release
Fish stocks boost for Bedfordshire Rivers
Fisheries experts are giving a boost to fish stocks in Bedfordshire to help develop and restore rivers and lakes.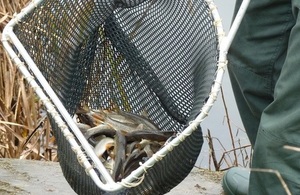 Fisheries experts are giving a boost to fish stocks in Bedfordshire waters as part of the Environment Agency's ongoing plans to develop and restore rivers and lakes.
Fisheries teams are stocking 2,600 barbel at several locations today (8 December). At the River Ivel near Biggleswade and Blunham, 800 young fish will be stocked, and a further 1,800 released in the Upper Ouse, distributed between Newport Pagnell, Odell, Harold and Adams Mill, Gayhurst.
Environment Agency fisheries teams have been working hard to improve river habitats for fish and other wildlife, with particular attention to spawning beds, water quality and improved fish passage.
Alex Malcolm, Fisheries Officer at the Environment Agency, said:
We are pleased that we can provide these fish for stocking as part of our commitment to rod licence paying anglers. Restoration and the creation of new fisheries for all people to enjoy, is a very important aspect to our work.
Work to improve river habitat has also been carried out recently at Adams Mill, Gayhurst. Fisheries officers have been carrying out gravel jetting projects which involves forcing water into the gravel beds at high pressure using a water pump. This removes any silt from spawning beds, improving water and oxygen flow over the fish eggs during spawning times, which increases survival rates.
Several flow deflectors have also been installed upstream of the gravel beds to help keep them clean, and a large section of the bank has been reinforced using branches from nearby felled trees to help prevent erosion. The Environment Agency releases fish into our waterways annually. Fisheries officers target fish stocking activity using data from national fish surveys to identify where there are problems with poor breeding and survival.
The fish all come from the Environment Agency's fish farm at Calverton, in Nottinghamshire, where between 350,000 and 500,000 fish are produced to stock rivers across the country each year. The young fish are reared for just over a year in a purpose built facility to ensure they're super fit and healthy when they're stocked. The fish farm is funded by Anglers rod licence fees.
Published 8 December 2015