Fish for Life wins prestigious award for Youngs
Fish for Life was initiated in 2006 by Young's Seafood and has since been adopted across Findus Group's operations in continental Europe.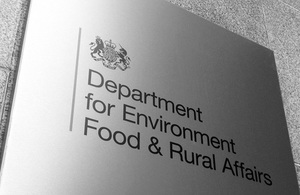 Young's the fish producer, part of Findus group, was yesterday announced as the winner of the European Business Awards for the Environment for their 'Fish for Life' programme for sustainably sourcing fish for their range of products.
Fish for Life was selected for these finals by a European jury and was the only British entry to reach the pan-European stage out of eleven UK winners named in London in March. It won the overall prize in the 'Management' section of the awards, against two other entries from Austria and Turkey.
Richard Benyon Defra minister for Fisheries said:
"This is an excellent achievement for Young's and recognises their hard work in using sustainable fish in their products.
Conservation and support for the fishing industry must work hand-in-hand if we are to have a thriving UK fishing industry and a vibrant marine environment.
UK fishermen are leading the way in improving sustainability. We will continue to work with the industry, including Young's to deliver sustainable and profitable fisheries."
"Everyone at Defra would like to offer our congratulations to Young's on their outstanding success at the European Business Awards for the Environment and hope that the lead Young's have taken in sustainably sourcing their fish can be replicated across the industry."
Chris Britton, CEO of the Findus Group, said: -
"These are highly prestigious awards which put Fish for Life amongst the very best environmental initiatives in Europe.  Winning this award underlines the point that Fish for Life is much more than just a consumer label for our products - it is a committed and multi-faceted programme intended to support genuine improvement in fish sustainability."
Background
Fish for Life was initiated in 2006 by Young's Seafood and has since been adopted across Findus Group's operations in continental Europe.   It encompasses detailed criteria and a stringent assessment process to ensure that all fish is responsibly sourced and highlighted as such on Young's and Findus packs through the Fish for Life logo.  The programme also drives extensive engagement work with fisheries to support best practice in the drive for long term sustainability.
For the past ten years the Royal Society for the encouragement of Arts, Manufactures and Commerce (RSA) Forum has managed the process for entry into the EBAE on behalf of Defra and the UK has had at least one winner in every round since then.
Defra re-launched the RSA Forum in September last year as part of its tenth anniversary. The RSA Awards ceremony is part of the Forum's wider marketing and promotional plan for increasing the number of accredited award schemes, and the number of companies applying to enter both national and European Business Awards.
The European Business Awards for the Environment play a crucial role in demonstrating progress on environmental and sustainable development issues worldwide
The awards were launched in 1987 to stimulate technological developments that will help create a sustainable society. The biennial Awards recognise and promote organisations which make an outstanding contribution to sustainable development without detriment to the environment and natural resources.
The biennial European Business Awards for the Environment are sponsored by the European Commission and honour European enterprises that "spur economic growth by contributing to innovation and competitiveness, while also protecting the environment."  Awards are open to companies from all EU Member States and candidate countries, and are nominated by their respective award bodies following success in national 'feeder' schemes.
For more information on the EBAE Awards see www.ebae.eu.
The Findus Group
The Findus Group is one of Europe's largest frozen food and seafood companies with leading brands, 6000 employees and over £1.1 billion turnover. It is the parent company of Young's, Findus and The Seafood Company.  Findus has market leadership in Sweden, Norway and Finland and a particularly strong presence in France, where it has the strongest brand recognition of any frozen food brand www.youngsseafood.co.uk.
Published 3 June 2010