FirstBuy already helping our military families
Housing Minister Grant Shapps has today congratulated the first member of the Armed Forces to benefit from the Government's FirstBuy scheme …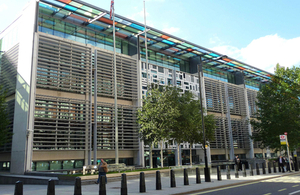 Housing Minister Grant Shapps has today congratulated the first member of the Armed Forces to benefit from the Government's FirstBuy scheme and get that all-important first foothold on the property ladder.
Terry Ferguson, a military policeman, and his wife Kerry, have bought a four-bedroom house in Donnington, near Telford. It forms part of a new Barratts development in the area, and is close to Mr Ferguson's base and his children's school.
The FirstBuy scheme will offer an alternative to the Bank of Mum and Dad for nearly 10,500 first-time buyers over the next two years. With the Government and developers together offering an equity loan of up to 20 per cent, this reduces the amount of deposit first-time buyers themselves have to find - making the dream of home ownership a reality.
In his letter to Mr and Mrs Ferguson, Mr Shapps congratulates them and says he is "delighted" that they are the first military family to benefit from the scheme.
He said:
I know that it can be difficult for serving personnel to access home ownership because of the nature of your work - I didn't want you to be disadvantaged.

By giving members of the Armed Forces top priority for this assistance, you are the first military family to be getting that important foothold on the property ladder through FirstBuy.

I am delighted to hear that you are the first to benefit. I would like to take this opportunity to wish you and your family every happiness in your new home.
Commenting further on this first sale, Mr Shapps said:
I am determined that we pull out all the stops to help anyone who wants to get on the property ladder to do so - but especially our men and women in uniform who face particular difficulty because of the nature of their work.

That's why in May, I held a summit with leading defence officials, banks and developers, to discuss the best ways to help members of the armed forces, and I have since ensured that all Government schemes, including the FirstBuy scheme, prioritise them for assistance.

I would like to extend my heartfelt congratulations to Mr and Mrs Ferguson who are able to move into their new family home thanks to FirstBuy, and I hope they are the first of many to benefit from this and the range of other help available.
Twitter
Keep up to date with the Department by following us on Twitter (external link).
Media enquiries
Visit our newsroom contacts page for media enquiry contact details.
Published 17 September 2011