First World War heroes commemorated as Britain remembers Battle of Loos
Twenty Victoria Cross heroes from the First World War are being honoured in paving stone ceremonies across Britain this week.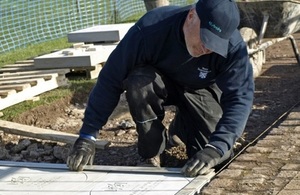 From Melrose in Scotland, to Greenwich in London, communities are coming together to pay their own special tributes 100 years on from one of the most devastating battles of the war – the Battle of Loos.
Since the start of the centenary, a paving stone has been placed in the hometown of every soldier awarded the VC, 100 years on from the date they received the award.
So far more than 200 paving stones have been laid – including a permanent memorial at the National Memorial Arboretum for the 145 oversees-born recipients of the VC.
Communities Minister Baroness Williams said:
We owe the men and women who have served our country a huge debt of gratitude and Britain's First World War heroes are just as inspirational now as they were a century ago.

Some were experienced officers, some barely out of school - but whatever their background, whatever their faith, every single one of them displayed incredible courage to fight for our liberty and our shared British values.

The paving stone ceremonies, taking place now and over the course of the centenary, are a fitting tribute to their bravery and will encourage people to find out more about how their local areas contributed to the First World War.
This interactive feature gives a background to the Victoria Cross paving stones competition and a history of the medals first awarded by Queen Victoria.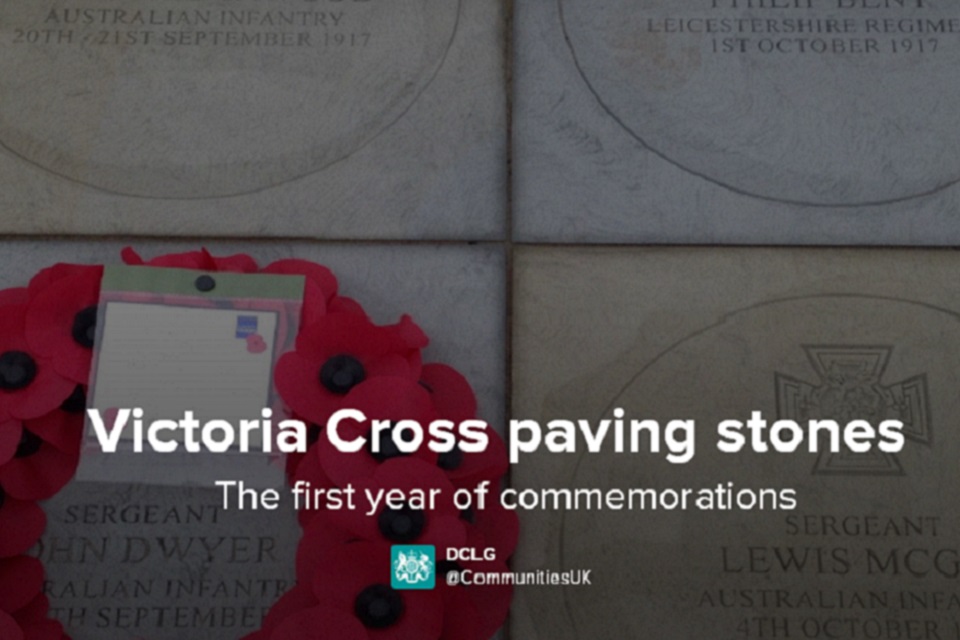 The design of the stones was selected from a public competition and includes the name of the soldier and regiment, along with the marking of the Victoria Cross. They are sited in locations visible to the public and the circular shape to inspire viewers to 'pause and remember'.
In August 2013, the Department for Communities and Local Government launched this campaign to honour all those awarded the Victoria Cross during the war.
Biographies
The 20 Victoria Cross heroes being honoured in paving stone ceremonies are:
Oliver Brooks – 8th October, Paulton, Somerset
Alfred Burt – 27th September 3PM, parade Hertford Town Council to Hertford Castle
Edgar Cookson – Wirral, Cheshire, (will be placed on Remembrance Sunday 2018)
Angus Douglas-Hamilton – 26th September, Melrose, Roxburghshire
Robert Dunsire – 26th September 1.30PM, Buckhaven Parish Church, Fife
Rupert Hallowes – 25th September, Redhill, Surrey
Samuel Harvey and Arthur Saunders – 26th September, Ipswich, Suffolk
Frederick Johnson and Alfred Fleming-Sandes – 29th September 10.30AM, Streatham Common, London
Henry Kenny – 25th September, Maryon Park, London
Arthur Kilby and Anketell Read – 25th September 11AM, Cheltenham War Memorial, Cheltenham, Gloucestershire
George Maling – 25th-26th September, Sunderland, Tyne and Wear
George Peachment – 20th September 2PM, St Anne's Church, Bury
James Pollock – 27th September 2PM, High Street, Tilicoultry, Clackmannashire
Charles Geoffrey Vickers – 14th October, Nottingham
Alexander Turner – 28th September 5PM, Thatcham, Berkshire
Arthur Vickers – Birmingham (placed in 2013)
Harry Wells – 25th September, St Martins Church, Herne Bay, Kent
George Peachment – the teenager who laid down his life for his captain
Included within the 20 VC heroes of the Battle of Loos is one of the youngest recipients of the cross during the First World War, George Peachment from Bury.
On the 25th of September, 1915 at only 18 years and 4 months old, George was part of the initial charge of the Battle of Loos. As the tide of the battle turned against the British and his fellow soldiers began to retreat, George spotted his Captain, Guy Dubs, stranded and injured, close to the enemy line.
He pushed himself on through an onslaught of bullets to reach his Captain and friend. George succeeded in saving Captain Dubs that day but sadly lost his life.
Arthur Kilby – The soldier the enemy honoured
Another hero of the Battle of Loos, Captain Arthur Kilby, was also awarded the VC on the 25th of September.
Kilby was selected after he led an initial charge of the battle which has been described as one of the few successes of that brutal day of fighting.
Kilby fought against extreme German defences with such spirit and dedication, despite numerous critical injuries, that his troops managed to push the British front deeper and deeper into enemy territory.
After hours of exhausting fighting he ultimately succumbed to his many injuries, ending a lifelong military career.
The Germans upon discovering his body retrieved and buried it, placing a cross and a wreath of flowers over the spot to honour Kilby's bravery and skill. His commanding officer wrote in a letter to Kilby's father which stated:
It is very gratifying to know that even our enemies recognise the superb heroism of that attack. If ever men died like heroes, they did.
Geoffrey Vickers – from teacher to trenches
The final Victoria Cross award of the Battle of Loos was given to Geoffrey Vickers. Vickers enlisted for war with his brother in 1914, postponing a planned life of academia.
Vickers received his award on the final day of the Battle of Loos when he bravely and with little concern for his own safety held the British front line, ordering a safety trench to be constructed behind his own position.
He was to receive numerous awards throughout the First World War for his bravery and at the outbreak of the Second World War he was asked to return to serve his country as a Deputy Director General at the Ministry of Economic Warfare and a member of the Joint Intelligence Committee.
How the Battle of Loos is being commemorated elsewhere
Over 20,000 British soldiers lost their lives during the Loos campaign and every part of Britain was affected by this loss.
To honour those soldiers, Dundee is hosting a national commemoration for the 30,000 Scots who fought in the Battle of Loos on the 25th of September with a variety of events occurring across the city.
Further information
The design of the stones was selected from a public competition won by Charlie MacKeith from London. The selected design uses a circular shape, created to inspire viewers to 'pause and remember'. The stones also use the material, form and lettering of the family memorials used by the War Graves commission.
The decision and date about the site of each stone has been taken by the relevant local authority. Guidelines to local authorities encouraged them to site the stones in a location that would have resonance with the VC recipient. Most importantly, the stones should be part of the community and sited in a position where they will be visible to members of the public.
An interactive biography of the all those that have been honoured by Victoria Cross paving stones ceremonies and the location of where their VC paving stones have been laid is available on the DCLG Pin Map.
Office address and general enquiries
2 Marsham Street
London
SW1P 4DF
Contact form https://forms.communit...
General enquiries: please use this number if you are a member of the public 030 3444 0000
If your enquiry is related to COVID-19 please check our guidance page first before you contact us - https://www.gov.uk/guidance/coronavirus-covid-19-guidance-for-local-government.

If you still need to contact us please use the contact form above to get in touch, because of coronavirus (COVID-19). If you send it by post it will not receive a reply within normal timescale.
Published 25 September 2015