News story
First World War Centenary in Afghanistan
Service personnel at Camp Bastion held a ceremony to mark the centenary of the First World War.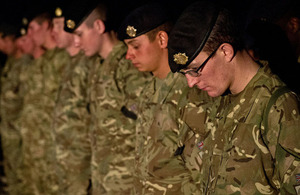 Armed forces personnel from all 3 services, as well as the US Marine Corps, gathered in Camp Bastion in southern Afghanistan to commemorate the start of the First World War.
Around 400 personnel congregated at the vigil site for a parade illuminated by the lights of military vehicles, before a ceremony presided over by force senior chaplain Wing Commander Geoffrey Withers.
The event was attended by senior commanders including the US Marine Corps' Brigadier General Daniel Yoo, the Commandant General of Regional Command (Southwest), and Brigadier Rob Thomson, Deputy Commander Regional Command (Southwest).
The ceremony was given added poignancy by the current deployment of units with battle honours from the First World War, including 5th Battalion The Rifles, who provide the Manoeuvre Battle Group, and the Queen's Dragoon Guards, currently serving as the Brigade Advisory Team.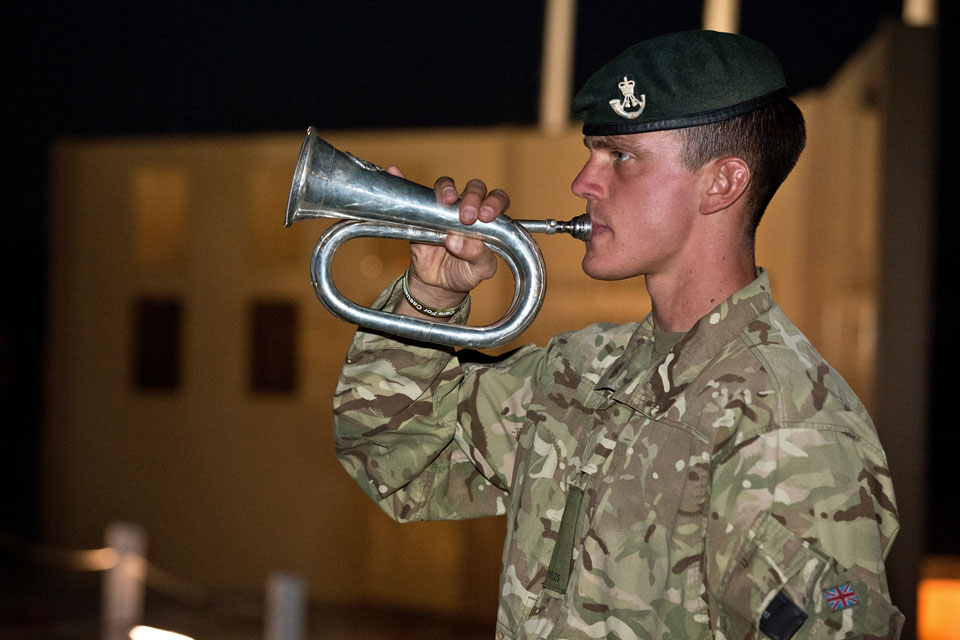 Linking the experiences of troops in the First World War with the current operation in Afghanistan, Brigadier Thomson said:
The character demanded by combat has not changed and you all stand here today as first-hand witnesses of another generation of courageous and committed fighting men and women.

You have achieved much here in Afghanistan and can look back with pride upon what you have done here. You have made the streets of London and Washington safer, helped build credible and capable Afghan National Security Forces, and have improved life for ordinary Afghans.
The ceremony also featured readings, including one from the youngest member of the Royal Artillery on Operation Herrick, who was chosen to signify the youth of many of those who fought and died in the First World War.
It concluded with the marking of reveille and the Last Post with a light gun, before the vehicle lights were switched off, leaving a piper and bugler playing in the darkness.
Published 4 August 2014