Press release
First report published from HS2 Residents' Commissioner
The first in a series of regular progress reports from the HS2 Residents' Commissioner has been published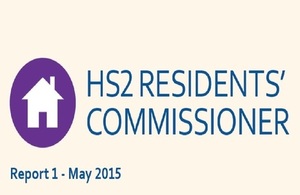 In the report the HS2 Residents' Commissioner sets out her activity since taking up the role in January 2015, some initial recommendations and a brief run through of her next steps. HS2 Ltd chairman, David Higgins, will be publishing his response to the report in due course.
HS2 Residents' Commissioner, Deborah Fazan, said:
It is vital that those who are eligible for the Government's property compensation and assistance schemes get clear information and know what they are entitled to. My role is to ensure that this happens.
The report sets out some recommendations to enhance community engagement, and to better understand the communication needs of affected residents, so that they are able to easily access the compensation schemes available.
The Commissioner is continuing to monitor the implementation of the property schemes and will soon begin meetings with MPs whose constituencies the new railway will run through to learn more about the impact on communities.
She has also made some suggested amendments to the Residents' Charter, largely for clarification. Following HS2 Ltd Board approval the revised Charter will be published online and distributed more widely.
View the HS2 Residents' Commissioner report 1 - May 2015
The next progress report from the Commissioner will be published later in the summer.
Press and media enquiries
For enquiries during office working hours, Monday to Friday, 9am to 5pm 020 7944 6149
For enquiries outside of these hours and at the weekend 07780 224 034
The press and media enquiries line is for accredited journalists only
Notes to editors:
More information on the role of the Residents' Commissioner and the Residents' Charter

More information on the HS2 property schemes

HS2 will be a Y-shaped high speed rail network connecting London with Birmingham; Manchester and Leeds. HS2 trains will then join the existing network for direct onward services to northern England and Scotland.

Switching long distance inter-city services to HS2 will make room on the existing railway to run more local, regional and freight trains providing more seats for passengers and taking freight off the roads.

The hybrid Bill for Phase One of HS2 between London and the West Midlands, effectively the planning application, was deposited into Parliament on 25 November 2013. At its second reading (28 April 2014) MPs voted 452 to 41 in its favour.

HS2 Ltd is a company wholly owned by the Department for Transport (DfT).
Published 4 June 2015