Press release
First publication of government services data paves way for efficiency savings
Information published today on government services is a crucial step towards using data to drive performance improvements and cut costs.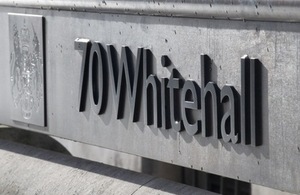 24 July 2012
Information published today on government services that citizens and businesses use to pay tax, apply for licences and loans, and receive, request or order other goods and services is a crucial step towards making better use of data to drive performance improvements and cut the cost of public services, said the Minister for the Cabinet Office Francis Maude.
For the first time, the Cabinet Office has compiled a list of these transactional services, the departments responsible for them, and how many transactions are delivered per year.
As well as allowing the public to see what services the government provides, this information release will help departments and agencies prioritise those to focus their efficiency efforts on and learn lessons for other, similar, ones as they move to make delivery of all services "digital by default".
Transactional services include payments into government (road tax or income tax, for example), applications for a range of different licences and authorisations (passports, visas, driving licences), and applications for benefits, grants or loans (such as jobseeker's allowance or student loans). Some of these can already be carried out online, while others are available by post, phone or face-to-face.
Welcoming the new information, Minister for the Cabinet Office Francis Maude said:
Today's publication goes right to the heart of our twin commitments to make government more open and public services cheaper, more efficient and focused on users. Making public services digital by default offers huge opportunities for cutting out waste and improving the user experience. The first release of this data sets us on the road to maximising the savings from shifting to digital services.
The initial list of transactions published today is based on data currently available. Users are encouraged to submit feedback, which will be used to enhance the accuracy and quality of future releases. Later this year, the Cabinet Office will publish an updated list that includes the costs per transaction of the most used services. This data will provide a baseline for ongoing comparison and highlight where efficiency savings are being made.
Alongside the transactions data, Cabinet Office is also publishing a beta version of a Digital Performance Framework. The framework provides step-by-step guidance for departments on how to measure and manage the performance of their transactional services. It covers the use of web analytics, data aggregation and data visualisation.
The alpha version, released last month, was welcomed as a valuable tool to help use data to drive performance improvements for transactional services. Feedback from users included suggestions for how to improve the framework, many of which have been implemented in the beta version released today.
The new framework is part of wider effort by the Cabinet Office to help government make better use of data and digital tools in the provision of public services. This will make services more efficient, better for users, and will help the Government identify further opportunities to reduce the amount of taxpayers' money lost through fraud, error and debt.
Published 24 July 2012