Press release
First official Social Value Ambassador announced
The Minister for Civil Society has announced Chris White, MP for Warwick and Leamington, as the first official Social Value Ambassador.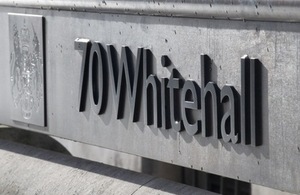 Today (13 June 2013) at the Social Value Conference, the Minister for Civil Society Nick Hurd announced the appointment of Chris White, MP for Warwick and Leamington, as the first official Social Value Ambassador.
The conference, organised by Social Enterprise West Midlands in Birmingham, heard how Chris White will be working closely with local authorities and the voluntary sector to raise awareness of the Public Services (Social Value) Act, which came into force earlier this year and received cross-party support. This act opens up more opportunities for social enterprises to deliver public services by ensuring that local authorities and other commissioners procure services with maximum social benefit for the community in mind. Chris will help encourage and oversee an improvement in the social, environmental and economic impact of public services contracts.
Follow what's going on at the Social Value Conference on Twitter at #socvalueconf.
Chris initiated this act as a Private Members Bill in 2010 to open up more public sector contracts to smaller businesses, social enterprises and voluntary organisations. He was inspired to do this following his experience of working as a District Councillor in Warwick. Here he was able to experience first-hand how charities and voluntary organisations were losing out on contracts that they might have had won if the submissions and the contracts themselves had been better designed with social value in mind.
Chris White said:
I am delighted to be appointed as the new Social Value Ambassador, and I look forward to championing this important act and the principles behind it. Nick Hurd and the Cabinet Office have been strong supporters of this legislation and I hope that I can support the efforts that have already been made to implement the social value approach across the country.

I look forward to working with stakeholders in local government and the public sector as well as engaging with civil society organisations and social enterprises on the ground to see how we can make sure that this act reaches its full potential.
Nick Hurd said:
Chris White has played a pivotal role in developing the ground-breaking Social Value Act. His vision has helped ensure that public sector contracts will deliver maximum value to our communities and that taxpayer's money is spent as efficiently and effectively as possible on public services. I would like to congratulate Chris on his achievements and I wish him every success in his new position as our official Social Value Ambassador.
Under the new legislation, local authority commissioners must now consider how they can improve the social impact of their public service contracts before they start the procurement process. The act also requires commissioners to consider consulting on the services to be procured. The government believes that wider consultation will not only develop stronger relationships between service providers and the authorities but will also enable people to say what they want from a particular public service. This will result in the best service for the local community.
For example if a local authority wanted to provide a 'meals on wheels' service for elderly people, it might first speak to potential users and suppliers along with other interested stakeholders. If the results of the consultation showed that many potential users suffer from loneliness and social isolation, it could recommend that a service where people are collected and taken to a local community centre for their meals would help combat these problems.
Local authorities across the country have started implementing this act. Social Enterprise West Midlands in particular has proactively set up a local authority social value champions campaign, with nearly all local authorities in the region signing up to become 'Local Authority Social Value Champions'.
Melanie Mills, Social Enterprise West Midlands Chief Executive, said:
We are delighted to have such strong support for the Social Value Act here in the West Midlands. We have been working closely with our local authorities who have shown their support by nominating their own Social Value Champions and today to welcome Telford and Wrekin Cooperative Council as our newest supporter.

The Social Value Act's roots are here in the West Midlands and we are determined that together we will unlock opportunities to create more social, local and environmental impact whether that is through creating apprenticeships or delivering great services and products. It is clear in times of austerity public money needs to get more for its money and our social value businesses are well placed to deliver on this for all bodies spending public money.
Notes to editors
The main provisions of the Public Services (Social Value) Act 2012 came into force on 31 January 2013. Cabinet Office has produced guidance on the act for procurers and commissioners.
The Public Services (Social Value) Act 2012 was introduced as a Private Members Bill by Chris White MP in 2010. It received Royal Assent on 8 March 2012.
Social Enterprise UK is the national body for social enterprise. Social enterprises are businesses that are changing the world. When they profit, society profits. Together with our members Social Enterprise UK is the voice for social enterprise in the UK and internationally.
Published 13 June 2013