Press release
First of £3 million Government funding given to disabled people's user-led organisations
The first awards to support grassroots disability organisations have been announced today.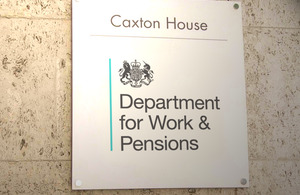 The first awards to support grassroots disability organisations have been announced today by Minister for Disabled People, Maria Miller.
The Government recently set up a £3 million programme for disabled people's user-led organisations (DPULOs). The programme supports DPULOs through both financial and non-financial support to be a representative voice for disabled people and deliver better services.
The Office for Disability Issues runs the programme and the first organisations across the country to receive support include:
Disability Equality North West (to develop new services that support disabled people to live independently)
Organisation of Blind Africans & Caribbeans (to develop the skills of their staff in order to run a more sustainable business)
Oxfordshire My Life, My Choice (to set up Oxfordshire's first radio programme by and for people with learning disabilities)
Personalisation Plus - Support Buddies (to set up a volunteering project where people with mental health issues support each other)
Voice for All (to purchase equipment which will enable members with learning disabilities to run their DPULO more effectively).
To date, 13 DPULOs have received around £116,473 in awards from the Strengthening DPULOs Programme.
Minister for Disabled People, Maria Miller said:
Disabled people should have choice and independence in how they live their lives. Organisations run by, and for, disabled people play a vital role in making sure this happens in local communities.

That is why we are investing £3 million to help DPULOs play an even greater role in shaping the decisions that will affect disabled people's lives.

These are the first financial and non-financial grants which have been awarded and I'd urge other DPULOs to now come forward and bid for extra support.
Ms Ibukun Olashore, Director of the Organisation of Blind Africans and Caribbeans, said:
We are delighted to receive this funding. This money will go towards training and coaching, which will help our staff to gain up-to-date skills. We will be able to offer a better service to the disabled people in our community, and ensure our business grows and becomes less dependent on statutory funding.
Notes to Editors:
The Strengthening DPULOs Programme was launched on 20 July. More information about the programme - including the Ambassadors and the Facilitation Fund - can be found at http://odi.dwp.gov.uk/dpuloprogramme and http://www.facebook.com/dpulos
The Facilitation Fund was co-produced with DPULOs and is a discretionary, flexible fund tailored specifically to DPULOs.
Talented individuals from private businesses, voluntary organisations and other charities can become Experts to the programme and share their skills with DPULOs by visiting http://odi.dwp.gov.uk/dpuloprogramme
Published 28 November 2011