First Libyan casualty for treatment arrives in the UK
Foreign Office Minister Alistair Burt wishes young schoolboy injured by grenade well for his recovery.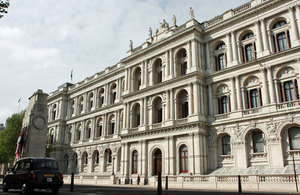 Speaking today Minister for the Middle East and North Africa Alistair Burt said:
"I am delighted that Abdul Malik Ahmed, the young schoolboy who was wounded by a grenade left in his school, today arrived in the UK for treatment. The courage he has shown in the face of horrific injuries symbolises both the great sacrifices made by the Libyan people but also the hope and optimism with which they are facing the future. I wish him well for his recovery. I am proud that he will be aided by NHS specialists who are among the best in the world.
Last week in Tripoli the Prime Minister committed to help the extraordinary efforts being made in Libyan hospitals to aid those wounded in the struggle for freedom. Abdul Malik is the first of around fifty Libyan civilians who will be offered advanced treatment and rehabilitation using the UK's specialist techniques and hospitals, paid for by the Libyan Government.
The UK will continue to stand shoulder to shoulder with the Libyan people as they recover from Qadhafi's tyranny and do all that we can to help them".
Published 22 September 2011