Press release
First Independent Shared Service Centre to deliver government back office savings
The first independently-run shared service centre will deliver significant government savings over a 7-year period.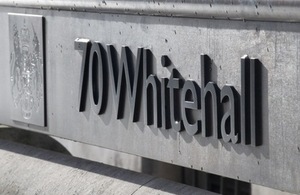 CAB 023-13
After a decade of frustrated attempts, the government is driving down the cost of back office functions by establishing the first independently-run shared service centre. The initiative, which is a key part of the Civil Service Reform Plan, will harness the very best private sector expertise to deliver savings for the taxpayer of up to £600m a year.
Yesterday, the government signed an agreement with business process outsourcing partner arvato to manage Independent Shared Service Centre One (ISSC1), which will be created from the existing Department for Transport (DfT) shared service centre, based in Swansea, South Wales.
Under the agreement, arvato will provide back office services to the DfT and its executive agencies. This is expected to deliver significant savings to DfT over a seven-year period. The newly independent centre will then expand to provide HR, procurement, payroll and finance transactional services to multiple government departments and arms-length bodies. The economies of scale will enable arvato to drive down costs and improve service levels by sharing expertise across customers, adopting common processes and systems, and investing in new tools.
Combined with the second Independent Shared Service Centre, which will come on stream early next year, business could grow by taking on additional customers from both the public and the private sectors as well as offering new services to existing customers as required.
Minister for the Cabinet Office Francis Maude said:
In the Civil Service Reform Plan we outlined our intention to make sharing services the norm for Whitehall. The creation of an Independent Shared Service Centre takes us one step closer to delivering the faster, smaller and more unified Civil Service we envisaged in our Reform Plan.

Although it's perfectly obvious that sharing services makes sense, successive governments have been unable to make progress on this for the past decade.

The taxpayer should no longer have to foot the bill for duplicative services. Instead departments will be able to focus on providing services rather than managing back office functions.
Philip Rutnam, Permanent Secretary at the Department for Transport, said:
The Department for Transport has become the first government department to complete a competitive process to divest its Shared Service Centre and we are looking forward to working with arvato in the new arrangement. This is a significant step forward for the department, and the government, as we seek to improve, standardise and simplify back office processes while delivering better value for money and greater efficiency.
Stephen Kelly, Head of the Cabinet Office Efficiency and Reform Group, said:
Appointing a private sector partner to run the first new Independent Shared Service Centre will allow us to maximise the economies of scale that arise when departments pull together. Whilst we seek to build on experience gained through running shared service centres within the public sector, the time has come to move away from the fragmented and constrained model that has existed to date, instead harnessing the advantages of commercial experience and industry best practice.
Notes to editors
For further information please contact:
| Topic | Contact | Phone number |
| --- | --- | --- |
| The government's Shared Services Strategy | Jeremy Olver, Cabinet Office press office | 0207 276 1146 |
| The existing DfT shared service centre | Simon Mundell, Department for Transport press office | 020 7944 3231 |
| Questions for arvato | Peter Lappin or Martin Currie (arvato), Citypress | 07540 047834 or 07976 291 532 |
Under the agreement, the existing Department for Transport (DfT) Shared Service Centre in Swansea, South Wales, has been acquired by arvato, which will subsequently provide back office services to the DfT and its executive agencies. The 7-year outsourcing contract, which includes an optional 3-year extension, is expected to deliver significant savings to the department over its duration. The agreement also includes a framework contract under which arvato will be able to maximise the centre's potential for growth by competing for additional outsourced central government business.
The government's Next Generation Shared Service Strategy seeks to eliminate duplication and maximise standardisation by reducing the present number of departmental service centres from 8 to 5: 2 of which will be independent (ISSC1 and ISSC2) and three standalone (MoD, HMRC and MoJ). This could deliver savings of between £400m and £600m as part of a transformation of government back office functions.
Published 1 March 2013