First-ever fund will offer £20 million support for single homeless people
Housing Minister Grant Shapps today announced a further £20 million to provide single people facing homelessness the help they need to get back…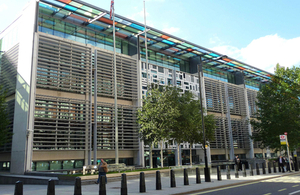 Housing Minister Grant Shapps today announced a further £20 million to provide single people facing homelessness the help they need to get back on their feet and ensure that they don't have to spend time on the streets.
Mr Shapps said that under homelessness legislation, single people are often not classed as "priority need" cases because they have no dependents. Most local authorities do not therefore offer as much support for single homeless people. This means they can often be left with fewer housing options - forced to spend nights 'sofa surfing' at friends' houses, in their car or even on the street.
The minister wants to ensure that nobody is turned away when they are most in need. This extra £20 million will help councils to provide a helping hand to single homeless people in their areas.
Possible uses include:
Providing a dedicated homelessness prevention officer for lower priority cases to give them the advice and support they need to get their lives in order and find a new home.
Funding more provision of short term emergency accommodation to prevent them sleeping rough.
Improving access to suitable privately rented accommodation through rent bond schemes, tenancy support or specialist reconnection services.
Housing Minister Grant Shapps said:
The plight of homeless people should be on our minds all year round - not just at Christmas.

We're fortunate to have some of the toughest laws in the world to prevent people from ending up on our streets, and while homelessness remains lower than in 28 of the last 30 years I'm always anxious to do more.

That's why today I'm announcing £20million of new funding which for the first time will specifically help single homeless people, who all too often slip through the safety net. This money will be used to help prevent homelessness at an earlier stage.
Mr Shapps is asking councils to work together locally to decide how best to use this cash to meet local needs in the most effective way possible.
A new programme of support will also be introduced to help local authorities improve their homeless prevention process for single people. Local authority homeless practitioners will offer active training on innovative ways to prevent single homelessness as part of existing services. And Homeless Link, working with other voluntary organisations, are developing a best practice letter for local authorities to help provide clear and useful advice and assistance to someone not in priority need.
The £20 million funding is in addition to the existing £400 million Preventing Homelessness Grant over the next four years and will be made available in the New Year. Further details of allocations to each partnership and regional split will be confirmed in due course.
Twitter
Keep up to date with the Department by following us on Twitter (external link).
Media enquiries
Visit our newsroom contacts page for media enquiry contact details.
Published 21 December 2011