Press release
First Civil Service Commissioner appointment: Ian Watmore
Her Majesty the Queen has approved the appointment of Ian Watmore to the role of First Civil Service Commissioner.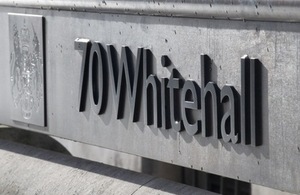 Ian was appointed following open competition and pre-appointment scrutiny by MPs at the Public Administration and Constitutional Affairs Committee.  He will take up the appointment on 1 October 2016 for a 5 year term.
The post of First Civil Service Commissioner was created in the 1800s. Their role is to head the Civil Service Commission which regulate appointments into the Civil Service and determines complaints raised by civil servants under the Civil Service Code.
Ben Gummer, Minister for the Cabinet Office said:
I am delighted to announce Ian Watmore as the First Civil Service Commissioner.  Ian has the experience and skills to make an excellent Commissioner and I look forward to working with him.
The Cabinet Secretary, Sir Jeremy Heywood added:
Ian's broad and distinguished record speaks for itself.  His wide-ranging knowledge and experience will be invaluable in his new role and I look forward to working closely with him as we maintain the values of the Civil Service while continuing to improve its performance.
Mr Watmore said:
I am delighted to be appointed as First Civil Service Commissioner.  I look forward to helping the Civil Service develop the leadership skills, diversity and flexibility to meet the new post-referendum challenges, while maintaining the core principles and values that make the British Civil Service the envy of the world.
Notes to editors
The First Civil Service Commissioner is appointed by the Queen for a 5 year non renewable term of office.
Ian Watmore has had a long and distinguished career in business, the civil service and public life.  He spent 24 years in the private sector culminating as UK CEO at Accenture between 2000 and 2004. He was Permanent Secretary at the Department for Universities, Innovation and Skills between 2007 and 2009 and at the Cabinet Office between 2010 and 2012. He also led the Football Association from 2009 to 2010.  Mr Watmore has additionally taken a number of posts on boards, including as a Church Commissioner, a non-executive Director at the Office of the Information Commissioner and Chair of the Trustees at the Migraine Trust.
An open recruitment exercise for the role  was conducted in line with the Civil Service Commission's Recruitment Principles and procedures.
The appointment was subject to pre-appointment scrutiny. The Public Administration and Constitutional Affairs Select Committee held a pre-appointment hearing with Mr Watmore on 6 September and published its report on 8 September 2016.
For Cabinet Office press office contact details, visit the press office page.
Published 16 September 2016