First centralised procurement contract awarded
Francis Maude has today recognised the progress made and set out the challenge ahead to senior government buyers as the first centrally managed contract went live.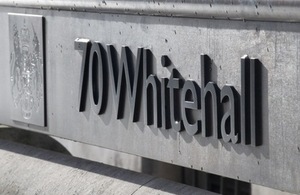 13 July 2011
Minister for the Cabinet Office Francis Maude has today recognised the progress made and set out the challenge ahead to senior government buyers as the first centrally managed contract went live.
Speaking today at an event for the top 200 government procurement officials, Mr Maude said:
The most radical changes to procurement are now underway - the days when there was no strategy and no coherence to the way the government bought goods and services are well and truly at an end.
"Collectively we have made a good start with the savings we have already delivered - but it is only the beginning. We need to challenge traditional procurement thinking and make a significant step-up in capability if we are to deliver on the challenges ahead of us. > > As procurement professionals this is your time, never have you had such a high profile or expectations placed upon you. There is a great deal to do when you leave here today.
The event came on the day that the first centrally managed contract was awarded by Government Procurement. Under the new arrangements the HMRC print contract will be available to all government departments in a deal that is expected to save £21m and will replace 140 contracts with a single contract.
John Collington, Chief Procurement Officer, said:
Since taking up my new role, it is exciting to see that the reform of government procurement is swiftly progressing and only last month we announced the formation of Government Procurement.  This new print contract is the first of a number of central deals we are putting in place over the coming year.  It shows government departments are utilising the expertise within their teams to support our reform and delivering real change along with significant savings.
Dave Thomas, HMRC Commercial Director said:
My team is extremely pleased to be managing the contract on behalf of government.  HMRC have been heading in this strategic direction for the last three years and the benefits of the contract align perfectly with the Government Procurement agenda. This model will now be available across government six months ahead of schedule and we look forward to meeting the challenge of onboarding.
Notes to editors
The HMRC Print Vendor Partner contract is for a Managed Service Provider and was awarded to Williams Lea with effect from 1 July 2011. The supplier will act as a central manager to the second tier supply chain. This enables departments to harness the expertise within the market and to aggregate and leverage spend  
The benefits of using the contract are:
Delivery of sustainable cash savings
Aggregation and leverage of wider market buying power
Transparent cost models
Standardisation and rationalisation of products and processes
Visibility of robust and consistent spend and consumption data
Intelligent management information and performance data
Ability to exploit supplier knowledge, capability and innovation
Minimise exposure to supply chain instability and volatile commodity prices
Process efficiencies as departments will not need to conduct non-strategic tenders 
Government Procurement, led from the Cabinet Office, will build on existing government provided operations to deliver sustainable cost savings for central government departments, streamline current procurement processes and invest in Civil Service procurement staff. This includes negotiating contracts for widely used goods and services for the whole of government at a single, better price, ending the signing of expensive deals by individual departments.
Published 11 July 2012