First anniversary of government's missing people strategy
Home Office minister Jeremy Browne heard first hand about work to better protect and support missing people.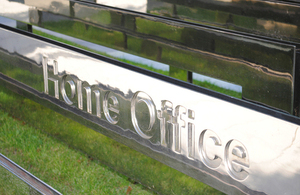 He met with call handlers, supporters and a family who were reunited, during a visit to the charity's offices in Richmond.
The visit marked the one-year anniversary of the launch of the government's Missing Children and Adults Strategy.
The strategy has led to significant progress in the government's aim of preventing, protecting and providing for missing people and their families during their time of need.
Achievements include a government supported 24 hour helpline which was set up by Missing People and has received 27,000 calls since May, and a national billboard campaign which has led to 19 people being found since July.
Missing people
Crime Prevention Minister Jeremy Browne said:'People who are missing are at great risk of harm and exploitation and deserve the best support and protection we can provide.
'I am delighted to see the progress we have made in just a year, working across government and with partner agencies and charities, to prevent, protect and provide for missing people and their families.
'Initiatives like those of Missing People and other charities, along with the hard work of police and agencies like CEOP and the National Missing Persons Bureau, are to be applauded for their vital contributions and provide a very clear picture of the strategy in action. However, it is critical that we build on this good work in the next year to ensure we are doing all we can.'
Making a difference to the 200,000 missing each year
Further initiatives that are now making a difference to the search for the 200,000 people who go missing each year include moves by the government to enable families of those who are missing and presumed dead to begin dealing with the vast array of financial and legal issues and a redesigned Missing Kids website, which provides a one-stop resource shop for children and their families.
Published 5 December 2012