Finding a resilient development path for Mongolia
The British Embassy Ulaanbaatar supports The Ecological Sequestration Trust in promoting a resilient development path for Mongolia.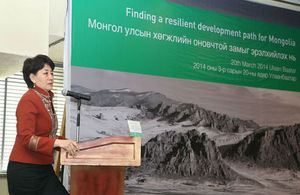 The Ecological Sequestration Trust (TEST), with support from the British embassy, delivered a successful workshop on 20 March 2014. The event attracted support from key Government ministers, the Science and research community, UN agencies and banks including Asian Development Bank (ADB) and Mongolian civil society.
Mongolia is at a crossroads and sees the need to move to a greener, cleaner and more resilient development path with energy, water and food security. The current industrial path has created pollution and deteriorating health. However it has poor capacity in government to take on the challenge.
Initial seed funding from the embassy leveraged real interest from Mongolian stakeholders and potential further funding to support the country's transition to green economy through TEST's world leading systems human- ecology- economics platform combined with a deep understanding of the role of culture, civic participation, science and finance. We now look forward to proposing and delivering a major project in Mongolia with the support of multiple international organisations operating in the country, particularly the office of ADB.
Further information
Follow the British Embassy Ulaanbaatar on facebook
Published 7 April 2014