News story
Final 4 cities in running to be UK City of Culture 2017 announced
Dundee, Hull, Leicester and Swansea Bay shortlisted.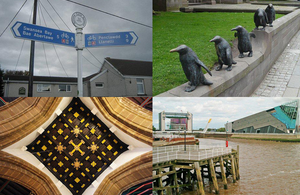 The announcement today by Culture Minister Ed Vaizey follows a meeting of the independent advisory panel chaired by Phil Redmond at which a total of 11 bids were considered.
Ed Vaizey said:
"I want to congratulate the 4 shortlisted cities who have made it this far, and indeed all 11 cities who put time and great effort into submitting bids. The events in Derry-Londonderry over recent weeks highlight just how much of an impact being 'City of Culture' can have. It brings together communities, encourages economic growth, and inspires social change and the shortlisted cities should be very proud of the bids they have put together so far."
The 4 shortlisted cities will now be invited to submit a final bid by the end of September 2013 and the winner will be announced in November. Read more about each cities' bid:
Phil Redmond, Chair of the independent advisory panel said:
"It was incredibly difficult to decide on a shortlist as all the bids recognised the power of culture to bring about social change and offered innovative and interesting programmes. In the end the panel thought the four short listed cities offered plans that were ambitious, realistic and would not only deliver for their communities, but would also maintain the momentum created around the success of Derry-Londonderry.
Further information
Published 19 June 2013