World news story
Film is GREAT at the Queen's Birthday Party in Shanghai
This was published under the 2010 to 2015 Conservative and Liberal Democrat coalition government
British Consul-General Brian Davidson hosted 400 guests on an evening of British Film and Creativity to celebrate HM the Queen's Birthday.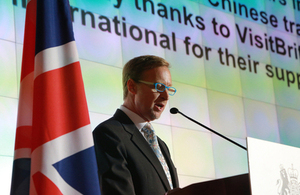 British Consul-General Brian Davidson hosted 400 guests on an evening of British Film and Creativity in Shanghai to celebrate Her Majesty the Queen's Birthday.
Shanghai's Vice Mayor – Mr. Shi Guanghui – led a group of Chinese officials on stage as Brian Davidson made a series of remarks to capture what has been a flourishing year in UK-China ties.
We have seen ground breaking new ventures in our cultural and creative relationships, in our science partnership the launch of the Newton Fund which will provide £200 million of joint funding for Scientific Research and Innovation collaboration. And, of course, this year has seen more tourists visit the UK and more students study there than ever before.
Brian continued:
We have chosen to host this year's celebration at the Shanghai Film Museum because British Creativity and Innovation will be the overarching theme for the work of my Consulate over the coming year. Not just in the Arts, Entertainment, Design and Fashion but in Technology, Infrastructure, Education, and Healthcare - among others.
The evening was jam-packed with the 'Pinewood feel' as Brian presented Chinese actress Qin Hailu as the Film is GREAT image ambassador. Scenes from Qin Hailu's visit to the UK were shown on a cinema screen.
Qin Hailu has been confirmed as the lead actress in a special British short film, called Freeze Frame, being shot at the end of the month in London, Edinburgh and Shanghai. The film will feature prominently in the GREAT British Online Film Festival.
The GREAT British Online Film Festival - a two-month online Film Festival to showcase award-winning or nominated UK short films will be available to view in China later in the summer.
In the main cinema theatre the British Council held a special screening of a newly restored version of Everest, bringing the British film ambience to the iconic Shanghai Film Museum. This coincides with the 17th Shanghai International Film Festival being held later in the week.
This event also acted as the platform to launch the promotional video for the GREAT festival of Creativity.
Mr. Davidson announced that:
I am delighted that the UK will be organising a GREAT Festival of Creativity in Shanghai in early 2015. The festival will showcase a dynamic celebration of creativity and offer the opportunity for business leaders to get a deeper understanding of how creativity, from the UK and beyond, is playing a crucial role in global business growth.