Fighting the War on Drugs, at Home and Abroad
Afghan Counter Narcotics Committee visits London to see UK drug policy in action, and to increase collaboration on this critical issue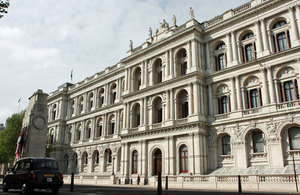 This week, four members of Afghanistan's Parliamentary Committee on Counter Narcotics visited the UK in order to widen their knowledge both of drug policy and parliamentary practice. The visit was a huge success, with the delegates enthused by what they had seen and heard, returning to Afghanistan determined to put their new knowledge into practice.
The Committee had a number of meetings with their UK parliamentary counterparts, including the Select Committees on Home Affairs and Justice, Home Office Minister James Brokenshire and FCO Minister for Afghanistan Alistair Burt. These meetings gave the delegates the opportunity not only to discuss counter narcotics policy, but also to share best practice in their critical role as legislators, holding the Government of Afghanistan to account.
- and they even squeezed in a trip to the Afghanistan exhibition at the British Museum.
But the visit was not just about meeting other MPs: the delegates also got out and about, both in London and beyond, to see UK drug policy in action. This included a tour of the Lorraine Hewitt drug treatment facility in Lambeth, and a discussion with the chief executive of DrugScope, the UK's leading independent centre of expertise on drugs.
Perhaps the highlight of the visit, though, was a trip to HMP Bullingdon, a prison renowned for its excellent drug treatment facilities. As well as being given a tour of the facilities, including a peek inside a cell, the delegation met several prisoners who had all overcome serious substance misuse problems.
The two groups hit it off immediately, with the prisoners talking openly and honestly about the impact that drugs had had on their lives and the difficulties they had faced in their long journeys to overcome addiction. Mawlawi Shahed spoke passionately about the rising addiction problem facing Afghanistan (where the UN estimates there are 1 million addicts) and asked what advice the prisoners could offer to young people in Afghanistan.
The men at Bullingdon offered three pieces of advice for tackling the drug problem in Afghanistan:
Intervene early in young people's lives, through education and good parenting;
Ensure that there are enough training and employment opportunities for young people;
Use reformed addicts to send the message, as this has the largest impact.
Mawlawi Shahed, clearly inspired by what he had heard, promised to carry these three messages back to Afghanistan.
Published 23 June 2011