Press release
Fight tree diseases with a united front says Owen Paterson
Working together is the best way to defend British trees and plants from the pests and diseases threatening them, Environment Secretary Owen Paterson said today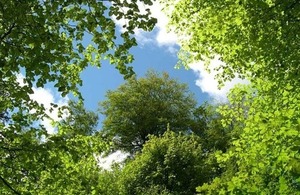 He was speaking at a meeting of woodland organisations and forestry groups, who were discussing the report by the independent Tree Health and Plant Biosecurity Expert Taskforce .
Attendees at the event heard from Defra's Chief Plant Health Officer, Martin Ward and Professor Chris Gilligan, Chair of the Taskforce before they discussed the Taskforce's recommendations and how they might be practically implemented.
Environment Secretary Owen Paterson said:
It is clear that it is only by working together that we can do our best to protect our plants and trees.
We've all got an interest in making sure this happens. Industries which rely on our woodland are worth £4.2billion to the economy and countless people enjoy walking, riding, cycling or playing in our forests.
The Government is playing its part alongside the excellent work being carried out by woodland groups and the industry to safeguard Britain's trees and plants now and for future generations.
Defra's Chief Plant Heath Officer Martin Ward gave an update on the initial stages of the work on a formal risk register; one of the recommendations made by the Taskforce. Key pests and diseases were identified through a series of meetings with expert groups and will form the basis of the risk register, the first phase of which should be ready in the Autumn.
Mr Ward said:
I've been sitting down with groups with an interest in tree and plant health to come up with a list of the key pests and diseases which threaten Britain.
This is the first step in producing the formal risk register which the Taskforce recommended. We now need to continue working together to identify those pest and diseases which we can take action against now.
The current risk register identifies a range of pest and diseases, those that are present, those that could threaten the UK in a shorter timescale and those which are not an immediate threat but which could potentially have a severe impact. Some of the pests that are being studied include:
chestnut blight and plane wilt, for which additional measures are being developed before the next planting season;
bronze birch borer, against which the UK is pressing for action at EU level to stop it being introduced to Europe;
acute oak decline, where more research has been commissioned to get a better understanding of the causes; and
camellia flower blight and fruit brown rot, where recent consultations with the industry suggest that regulation is no longer appropriate and should be withdrawn or amended to reflect current distribution of those diseases.
Regular updating of the risk register and associated risk assessments will continue to spot pests and diseases against which measures needs to be adapted to take account of new information.
The independent Tree Health and Plant Biosecurity Expert Taskforce was set up by Owen Paterson as a result of the discovery of Chalara fraxinea in the UK last year, to consider and address the current and possible future threats to tree health. It was made up of a group of expert scientists and chaired by Professor Chris Gilligan of Cambridge University. The Taskforce delivered its final report in May at the Chelsea Flower Show, where the silver medal-winning 'Stop the Spread' garden by Fera gave a graphic warning of the importance in dealing with pests and diseases.
Mr Paterson responded to the report by announcing that work would begin right away on the recommendations around developing a plant health risk register and implementing procedures to predict, monitor, and control pests and diseases. The rest of the recommendations will be examined and responded to later in the summer.
Defra has made tree and plant health one of its top priorities and is continuing to tackle tree pests and diseases, including Chalara. To tackle tree disease the Government has already:
Introduced tighter controls on the import of oak, ash, plane and sweet chestnut trees;
Allocated £8m for research into diseases that could affect our trees; and
Planted 250,000 ash saplings to monitor for genetic resistance to Chalara and commissioned research to investigate genetic resistance in a laboratory setting.
Published 11 July 2013