Press release
Fencing North East wins Prime Minister's Big Society Award
An organisation supporting fencing clubs across the north east has been recognised by Prime Minister David Cameron with a Big Society Award.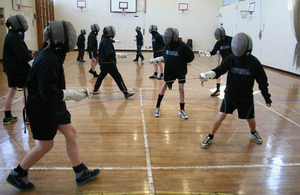 Fencing North East has provided opportunities for young people in Northumberland, Tyne and Wear, Durham, Cumbria and Teesside who have gone on to compete at national, European, and Paralympic levels. It has trained 69 unemployed young people as 'Go Fence' leaders, who have in turn introduced over 800 people from their communities to Fencing.
Inspired by the 2012 Olympics, and supported by its successful partnership approach and dedicated volunteers, the group hopes to take 10 leaders to Rio during the 2016 Olympics.
Fencing North East was set up in 2008 in partnership with the universities of Durham and Northumbria. It has 40 regular volunteers who give over 200 hours of their time each year. Since 2008, the organisation has:
introduced 2,500 under 16s in the north east to fencing through working with schools, scouts, colleges and local authorities, specifically targeting young people from less well off areas
increased participation in wheelchair fencing with 12 regular wheelchair fencers through the region
worked with 13 clubs in the region to offer training and development for coaches, fencers, volunteers and officials
created the first ever Regional Development Officer for fencing to introduce over 5000 people to fencing and train 100 coaches and over 50 volunteers.
Prime Minister David Cameron said:
Fencing North East has had a real impact across the north east, inspiring young people to take up a new sport and helping them gain confidence, skills and even qualifications.

I'm delighted to be recognising the achievements of everyone who volunteers, coaches and takes part with this Big Society Award.
Marie Matheson, Chair, Fencing North East, said:
I'm very proud of my involvement with Fencing North East, and have found working with all of our volunteers and participants inspirational on so many levels. I'm delighted that the hard work and creativity of our volunteers has been recognised with a Big Society Award from the Prime Minister.
Fencing North East's 'Street Swords' project was created in 2011 in partnership with the Prince's Trust. It specifically targets disengaged young people aged 8 and over from deprived areas and provides bursaries to ensure cost does not prevent young people from taking part. Street Swords participants have gone on to referee and coaching courses, including the level 1 coaching qualification. The project was awarded the Inspire Mark for inspiring the Olympic ethos and has secured funding from Sport England, the Co-operative Foundation, Darlington Borough Council Sport Development and support from Durham University and Northumbria University to develop the project and share their work nationwide and internationally.
Notes to editors
Images available upon request.
Media contacts: Marie Matheson, Chair, Fencing North East on 07860 103698 and Beth Davidson, Regional Development Officer on 07834 884194.
For more information see the Fencing North East website.
Charity fencing festival
The Regional Fencing Centre Durham has organised a 24-hour charity fencing marathon of activities and training for all ages, abilities and disabilities to be held on 30 and 31 August 2013, from 5pm to 5pm. For fencers, this is a training opportunity as well as lessons with Laszlo Jakab, and tasters will be available for those new to fencing and wheelchair fencing. This is a charity event to raise money for Help for Heroes and fencing development in the north east.
Case Studies
The Street Swords project has worked in partnership with Stockton Riverside College and the Princes Trust working with those on a City and Guilds course to get local people back into work. A Go Fence leaders course was held at a local community centre to train 7 new leaders to use the plastic version of fencing so that they in turn can coach in local primary schools in Darlington.
Coaches Matthew Boggett and Ryan Morse from Middlesbrough were invited to teach Go Fencing at the Pleasure Gardens near the ExCel Centre in London. Part of the Cultural Olympiad, these fencing tasters were aimed at visitors to the Olympics, encouraging them to take up fencing.
Big Society Awards
The Big Society Awards were set up by the Prime Minister in November 2010. The aim is to acknowledge individuals and organisations across the UK that demonstrate the Big Society in their work or activities. In so doing, the aim is also to galvanise others to follow.
The awards focus upon 3 specific areas:
Outstanding contribution to community
people, projects and organisations that enable communities to drive change themselves
projects and organisations that allow the community to identify solutions
people, projects and organisations that inspire others to contribute to their community
Improving lives and society through innovation, collaboration and new partnerships
people and organisations taking new approaches to public services
successful collaboration and partnerships between public, private and voluntary sector - working together to benefit communities
Engaging in social action
people, projects and organisations taking action in their community
working together for social change (eg through creating groups, campaigns, movements)
generosity of time, money, skills and other resources – in support of social action
Launching the awards, the Prime Minister said:
There are some amazing projects and remarkable voluntary work going on in towns and cities up and down the country, by all kinds of organisations from large enterprises to tiny grassroots schemes and inspirational individuals.

These awards are a chance to pay tribute to those making a valuable contribution to their community, the real champions of the Big Society, but perhaps more importantly, I hope they will motivate many others to take action, get involved and drive change in their area.
Nominations come in from the general public after which there follows a process of scoring and short-listing by civil servants and a further short-listing by a panel of ministers and independent external experts. This panel makes recommendations to the Prime Minister who makes the final decisions about who to make the award to. Twelve winners are decided each quarter meeting and then announced once a week throughout the year.
Over 80 winners have been announced to date, including:
Community Action Through Sport
Promoting, recognising and rewarding all young people for positive community action with sports based awards.
Wotton under Edge swimming pool In their first year (2011) overall use of the pool was estimated to have increased by 89% on the previous year. Users include the local schools, a triathlon club, mums and babies. The site continues to provide employment for local young people, offers swimming lessons and has seen 12 lifeguards receive training.
AFC Wimbledon AFC Wimbledon is a professional Football League Two club, which is currently celebrating its 10-year anniversary. The club is still owned by its supporters via the one-fan, one-vote Dons Trust. Since formation, the club's officials, supporters and 300 volunteers have organised a number of community initiatives.
Big Society Awards - Inspired by 2012: Keeping the Olympic Flame Burning across the UK
The Olympic and Paralympic Games last summer enthralled the nation and inspired over 70,000 people to volunteer their time and energy. Since then, people have engaged with their local sports clubs, tried a new sport, implemented community initiatives, ignited whole towns and villages to commit to keeping the spirit of 2012 alive.
To celebrate the anniversary of the 2012 Games, a number of awards will be announced for innovative groups, individuals and organisations whose work exemplifies the Big Society and whose Olympic-style achievements are making a real difference in communities.
A full list of winners and information about the Big Society Awards is available. Enquiries: Lucy Windmill 07795 445 197.
Published 23 August 2013