News story
Female military mechanic awarded for supersonic work
A British Army vehicle mechanic has been recognised for her contribution to the Bloodhound supersonic car project.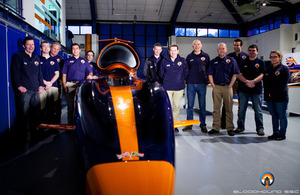 Corporal Lisah Brooking, a 27-year-old vehicle mechanic from the Royal Electrical and Mechanical Engineers (REME), was presented with a land speed record award for her outstanding contribution to the Bristol-based project.
The special peer award was presented by fellow mechanics helping to build the 1,000-mile-per-hour car, which aims to inspire the next generation of school kids to take up careers in engineering and science.
On loan from her regular unit, 1st Battalion The Yorkshire Regiment Light Aid Detachment, based in Warminster, Corporal Brooking has been attached to the Bloodhound supersonic car (SSC) project to support testing and development of the car's custom gearbox as part of a high test peroxide rocket system, which uses a Formula 1 engine as the fuel pump.
Corporal Brooking's award comes at the end of her attachment to the high profile team, having beaten off tough competition to win a place on it in the first place. Interviews for the 6-month attachments as part of the REME team run every September and March; prospective applicants should put their names forward through their chain of command.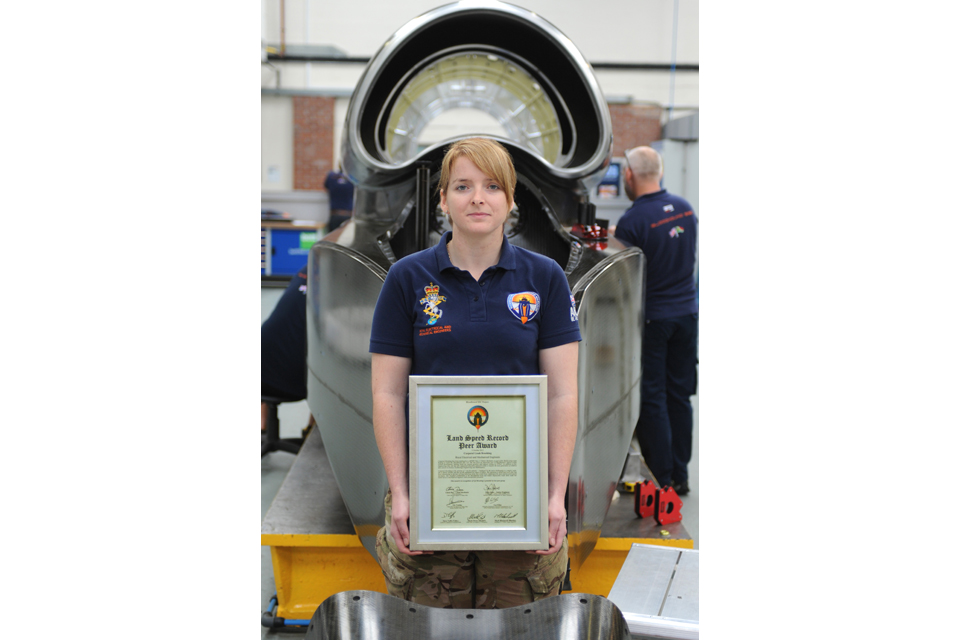 Corporal Brooking said:
I have learned so much about engineering here at Bloodhound SSC and been mentored by the best in the business – it's a real honour to be recognised for the skills I have learnt from the REME.

I have no doubt that the knowledge I've gained from working on the Bloodhound project will help me on operations, and I'll make sure that others get the benefit too by sharing it with those more junior to me.
Bloodhound project director, Richard Noble, said:
The people working on Bloodhound are amongst the best engineers in the world and Corporal Lisah Brooking has impressed her peers, which is not to be underestimated.

With good people you can do anything – our partnership with the REME consistently delivers us incredibly talented men and women and long may it continue.
The Minister for Defence Equipment, Support and Technology, Philip Dunne, said:
The REME are able to bring considerable experience of supporting and repairing world leading technology and engineering safety process to the Bloodhound project. But it doesn't stop there; the new skills and techniques the team learn are being reinvested into Defence – contributing to the engineers of Future Force 2020.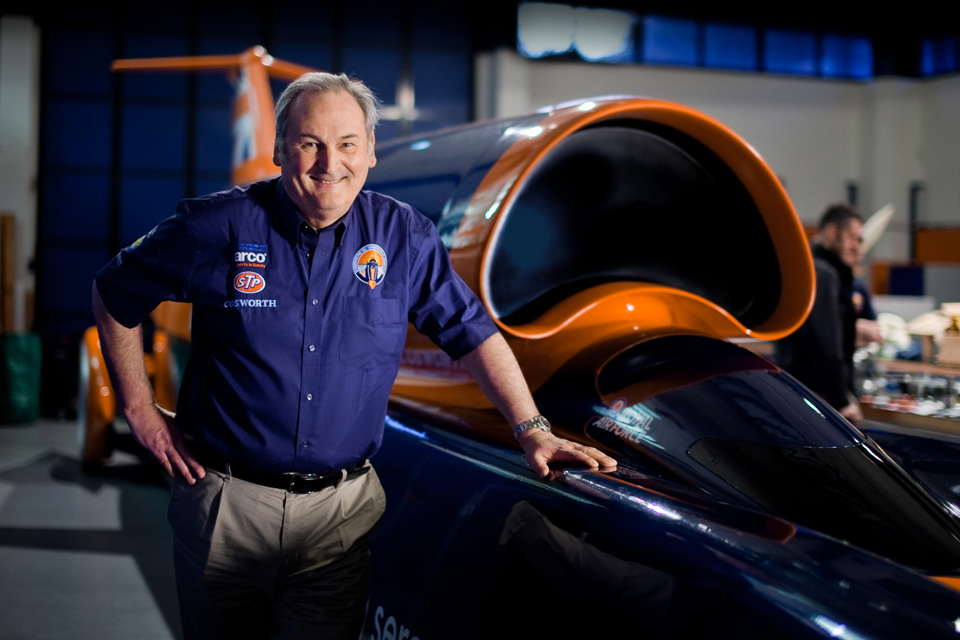 Corporal Lisah Brooking's citation reads:
Corporal Brooking has been employed as a REME Class 1 vehicle mechanic as part of the British Army team helping to build the Bloodhound SSC car. She has been an important part of Bloodhound's hybrid rocket system development, helping build the custom gearbox and support testing at Xtrac.

In addition to her engineering role, she has also supported education outreach events to inspire the next generation of children into careers in science, technology, engineering and mathematics.

Corporal Brooking is the epitome of 'can do attitude'. Unfazed by the most challenging or complex tasks, she is utterly reliable and has set the standards for others to follow. Her attention to detail and work ethic has been unwavering in the face of long laborious tasks that would have challenged the most patient motorsports mechanic.

Her steadfast commitment to the Bloodhound team and widely employable trade skills make her stand out as a mechanical engineer with considerable potential.
This week, 4 to 8 November, is Tomorrow's Engineers Week. The aim of the week is to give young people the opportunity to find out more about the careers in engineering including roles like those in the Royal Electrical and Mechanical Engineers, but also working in fields as diverse as space, construction, transport, cosmetics, medicine, food and fashion.
Published 5 November 2013