Press release
Featherstone: Breaking Darfur's dependency on aid
Britain will help end Darfur's dependency on emergency relief and give millions the chance to grow food and rebuild their livelihoods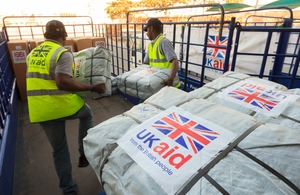 Speaking ahead of a major conference on Darfur's development and reconstruction in Doha, International Development Minister Lynne Featherstone reconfirmed Britain's commitment to the region and urged other donors to follow our lead and tackle the root causes of conflict and poverty.
This includes a major £67 million package of support for Sudan, most of which will be delivered in Darfur.
Starting this year, the new package will help the poorest people to become better able to cope with the devastating impact of conflict or manmade disasters – such as helping communities to grow their own food, or giving them the skills that will enable them to work and access to local markets.
Lynne Featherstone, International Development Minister, said:
Ten years on from the start of the conflict, our aid has helped save countless lives in a region where so many have been forced from their homes and almost one and a half million people still rely on food aid for survival.
We will never stand on the sidelines while so many people are in need of urgent help, but it is not good enough to simply offer more handouts.
Our aid will help the poorest to get the help they need to stand on their own and make them better able to cope when crises occur.
The Government of Sudan also needs to do their part. Aid workers must have free, fair and safe access they need to do their job and the people of Darfur need peace so that they can rebuild their lives. Today's conference is a major opportunity to give the people of Darfur the support they need to escape years of conflict and dependency on emergency aid.
Each year the UK's aid to Sudan will ensure:
3 million get the health and nutrition they need to survive
1.7 million people provided with safe water and sanitation
1.2 million people will benefit from emergency shelter and other essential household items
1.5 million people provided with emergency food supplies
In order to reduce long term reliance on emergency assistance by 2015, DFID will:
make 500,000 people 'food secure' by ending their reliance on emergency aid through its new humanitarian and resilience programme. This will include setting up seed banks and improving irrigation for farmers.
ensure that 800,000 people enjoy greater control over their own development and can hold decision-makers to account.
Britain currently spends £25 million every year in Darfur and since 2007 has spent more than £100 million to tackle the desperate humanitarian situation.
Ten years since the start of the conflict in 2003, Darfur is still far from peaceful, safe or secure. In total, almost two million people remain displaced from their homes and half the population – equivalent to four million people –depend on emergency relief with little or no opportunity to sustain their own livelihoods.
Darfur has also seen an increase in conflict between ethnic groups in the last year. Renewed fighting this year has already seen at least 100,000 people newly displaced, including 60,000 people from the Western Jebel Amer region following renewed clashes this year.
The new £67 million Sudan Humanitarian Assistance and Resilience Programme will operate for three years across Sudan, focussing on Darfur and including assistance for Blue Nile and South Kordofan. At least half of this funding will be allocated to Darfur. Support will be channelled through UN agencies and INGOs to build household and community resilience, predominantly in Darfur, and help people to move on from aid dependency. DFID will help returning populations to get back on their feet, and link longer-term humanitarian beneficiaries to development programmes.
Published 7 April 2013