FCO statement on the release of Ilgar Mammadov in Azerbaijan
The Foreign Office welcomes release of the Azerbaijani opposition leader from prison and encourages Azerbaijan to make further progress in human rights cases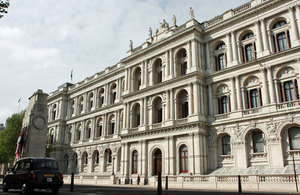 In 2014, Mr Ilgar Mammadov, leader of the Azerbaijan opposition political party 'REAL', was convicted and sentenced to a lengthy prison term, which the European Court of Human Rights ruled was politically motivated. Mr Mammadov has now been released by the Azerbaijani authorities, and is to be placed under probation.
A Foreign & Commonwealth Offixe (FCO) spokesperson said:
The release of Ilgar Mammadov on 13 August represents a positive step forward. However, we are concerned that some conditions have been attached to Mr Mammadov's release by the Azerbaijani authorities. The UK urges Azerbaijan to abide by the judgment of the European Court of Human Rights on the unconditional release of Mr Mammadov, as repeatedly demanded by the Council of Europe.

We encourage Azerbaijan's modernisation efforts which are vital if Azerbaijan is to make progress as a prosperous, tolerant and democratic society. This includes taking positive steps on other cases of human rights concern. We will continue to support Azerbaijan in fulfilling their international obligations.
Newsdesk
All the latest news is available on the Foreign & Commonwealth Office page of the GOV.UK website.
Foreign and Commonwealth Office Media Office 020 7008 3100
Published 17 August 2018