FCO statement on Israeli Land Authority announcement
Foreign Office spokesperson comments on the Israeli Land Authority's announcement today of tenders for the construction of 171 homes in settlements of Har Homa and Pisgat Ze'ev in East Jerusalem.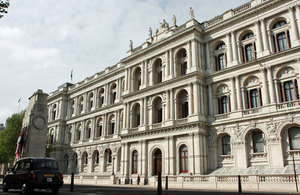 Speaking earlier, FCO spokesperson, said:
"The Foreign Secretary made clear his condemnation of these settlement plans in his statement of 20 December 2011 when they were first announced. He urged the Israeli Government to "revoke these decisions which are wrong and deeply counter-productive" and are illegal under international law. Today's announcement is therefore extremely disappointing. We repeat our call for the Israeli government to end systematic expansion of settlements".
Published 29 June 2012