Press release
FCO response to Wass Inquiry
Independent inquiry finds no evidence of endemic child abuse or cover up on St Helena and Ascension Island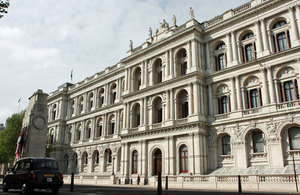 The UK Government has today (Thursday 10 December) published the findings of an independent inquiry led by Sasha Wass QC into serious allegations of a cover-up of child abuse on St Helena and Ascension Island.
The inquiry concluded that child abuse is neither endemic nor routine on St Helena and Ascension Island, and found no evidence of corruption or a cover up in the St Helena Police Service, the St Helena and Ascension Island Governments, the Foreign Office (FCO) or Department for International Development (DFID).
Although noting areas of significant progress in child safeguarding, the report did find evidence of systematic failings by social services and police in the past and has made a number of recommendations which the FCO, DFID and the Government of St Helena have accepted with immediate effect.
These recommendations include:
Ensuring that incoming Governors and relevant senior administrators are made aware of previous problems, reports and recommendations upon arrival in position;
Strengthening recruitment processes for those who take up positions in St Helena including for police officers and child safeguarding roles;
Providing UK standards of child safeguarding training for all St Helena Government employees likely to come into contact with children throughout the course of their employment;
Re-opening local health clinics so those living in remote parts of the island have easy access to medical attention for themselves and their children; and
Revisiting previous reports on child safeguarding to ensure that all of the recommendations are carried out.
The UK Government will be appointing a senior UK public servant to provide additional support to the Governor's office to work through and embed recommendations in the report. We will be announcing the details shortly, and expect this person to be on island in early 2016
Foreign Office Minister James Duddridge said:
We take a zero tolerance approach to child abuse. One case is one too many. We are committed to helping St Helena and Ascension Island to improve child safeguarding. The Government will now implement the recommendations made by the independent Wass Inquiry.

I welcome the finding that abuse in St Helena and Ascension Island is not endemic and that there has been no cover up, but more can be done to prevent abuse and support victims.

Significant progress has already been made in this regard, including the creation of a new dedicated Safeguarding Directorate, Family Centres for victims, additional specialist staff, and better training for those working with children. We will continue to work closely with the St Helena Government to do everything possible to protect children and the vulnerable.
The UK Government is committed to working in partnership with all Overseas Territories to build vibrant and flourishing communities and will build on the foundations already in place to address issues raised by the report and to continue to meet the needs of the people on these islands.
Mr Duddridge last week convened a Joint Ministerial Council of the elected leaders of the Overseas Territory Governments where all reiterated a shared commitment to a zero tolerance approach to child abuse in all its forms, and to ensure a child-centred and coordinated approach to safeguarding based on multi-agency working, information sharing and robust risk assessment.
Further information
The report can be found here
A link to the Written Ministerial Statement can be found here
There are ongoing police investigations relating to issues addressed in the report. There is also the possibility of further police investigations into serious criminal offences in the future. In order to avoid prejudice to current and future investigations, the published version of the report has been redacted to remove much of the contents of Chapter 9 and associated references in the body of the report. The report will be re-published with the redactions related to Chapter 9 removed as soon as circumstances permit.
A link to the communiqué from the Joint Ministerial Council can be found here

Follow Foreign Office Minister James Duddridge on Twitter @JamesDuddridge

Follow the Foreign Office on Twitter @foreignoffice
Published 10 December 2015