Press release
UK to share Olympic expertise with Japan
Mr Sharma, the Minister for Asia and the Pacific, will visit Tokyo and Osaka on a trip which will cover a range of foreign policy and trade issues.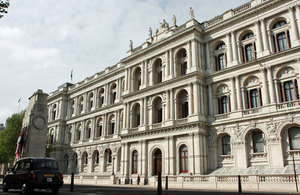 Mr Sharma, the Minister for Asia and the Pacific, will visit Tokyo and Osaka on a trip which will cover a range of foreign policy and trade issues.
Minister Alok Sharma will also offer to share the UK's Olympic expertise as he meets senior officials in Japan this week.
Tokyo will host the Olympic and Paralympic Games in 2020 and Japan will also host the Rugby World Cup in 2019.
UK businesses developed strong expertise in preparing and running major sporting events during the Games in London 2012 and were heavily involved in providing services and support to Rio De Janeiro ahead of the city hosting the Games this summer.
Mr Sharma will meet the Japanese Olympics minister Tamayo Marukawa to hear about plans for 2020 and will offer the UK's expertise in area including crisis planning, cyber security and counter terrorism. He will also host a dinner for senior Olympics organisers.
During the visit Mr Sharma will have his first meeting with the Japanese State Minister for Foreign Affairs Nobuo Kishi to discuss UK-Japan collaboration on foreign policy as well as regional issues like North Korea.
The Minister will reiterate that Japan is the UK's closest security partner in Asia and will emphasise our growing defence and security partnership based on our shared commitment to global prosperity, peace and security.
Mr Sharma will meet senior business leaders from Keidanren, the Japanese equivalent of the Confederation of British Industry (CBI), and representatives of the financial institutions HSBC, SMBC and Mizuho.
Foreign and Commonwealth Office minister Alok Sharma said:
The UK and Japan have a strong relationship and I am looking forward to meeting with some of Japan's senior politicians and businesspeople. We export over £10 billion in goods and services to Japan each year and Japan sustains over 140,000 jobs in the UK. We see great opportunities for this to continue to grow.

The Olympics in 2020 will be one of those opportunities. We have a proud record of staging major events in the UK and we have public and private sector expertise which is valued around the world. I hope we can share some of that knowledge and expertise with Japan as they prepare for the exciting prospect of hosting the Games.
Notes to Editors
Over 100 experts from the London 2012 games worked closely with Brazilian officials in the four years leading up to the Rio games.
UK companies won over £650 million in Rio contracts, including planning, design and engineering, ticketing and hospitality.
The UK is one of Japan's leading creative partners, and will closely support the Cultural Olympiad in 2020. Close ties between the two nations have been reinforced by recent visits to Japan by the Royal Opera and London Symphony Orchestra in 2015 and the Royal Ballet in 2016.
Further information
Published 26 September 2016