Press release
Foreign Secretary sends his best wishes to Muslims celebrating Eid across the world
The Foreign Secretary Philip Hammond has shared his well wishes for the Muslim celebration of Eid ul-Fitr.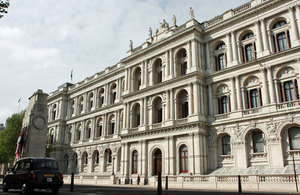 The Foreign Secretary said:
"I send my best wishes to Muslims in the United Kingdom and across the world as they come together to celebrate Eid ul-Fitr.
"In many places this Ramadan has been marked by tragedy and violence rather than a peaceful reflection. We offer our thoughts and prayers to all those who have been caught up in conflict over this period.
"Eid ul-Fitr is a special time for millions of people, with celebrations that highlight the diversity and reach of Islam. I wish you all a peaceful Eid ul-Fitr.
"Eid Mubarak."
Further information
Published 16 July 2015