Press release
FCO Minister welcomes Israeli steps to assist Palestinian economy
Alistair Burt welcomes announcement of Israeli steps to assist the Palestinian economy and looks forward to further progress.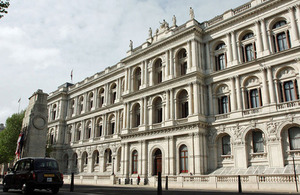 Speaking today, Alistair Burt said:
I warmly welcome the positive steps announced by Israel in recent days towards assisting the Palestinian economy in advance of the Ad Hoc Liaison Committee meeting on 25 September. Measures such as allowing construction materials for private projects into Gaza and convening joint Israeli-Palestinian committees on water and agriculture are positive signals of intent as both sides seek to move forward in peace negotiations. The UK looks forward to further progress in the days and months ahead in both the economic and political spheres. We will continue to support efforts to achieve a sovereign and prosperous Palestinian state alongside a safe and secure Israel.
Further information
Follow Foreign Office Minister Alistair Burt on twitter: @AlistairBurtFCO.
Follow the Foreign Office on twitter.
Published 18 September 2013