Press release
FCO Minister welcomes expansion of Syrian National Coalition
Hugh Robertson welcomes formation of interim government and inclusion of Kurdish National Council in Syrian National Coalition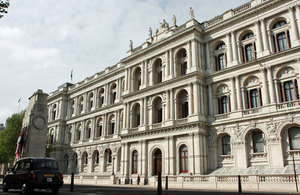 FCO Minister for the Middle East Hugh Robertson said:
I welcome the entry of the Kurdish National Council to the Syrian National Coalition and urge all Kurds to be part of a national dialogue on the Syrian people's legitimate demands for change. I also welcome the announcement by the National Coalition of the formation of an interim government, led by Prime Minister Tomeh. The UK will work closely with the interim government to support its efforts in Syria.

The unilateral announcement by the Partiya Yekitiya Demokrat (PYD) of a temporary administration in the Kurdish areas will cause concern unless the PYD makes clear it is part of the opposition rather than linked to the regime and is committed to pluralism and respect for the other political forces within the Kurdish areas, ready to co-operate with the National Coalition as the legitimate representative of the Syrian people and in particular its newly formed Interim Government, and working towards a political solution to the conflict on the basis of the Geneva Communiqué.
Further information
Follow Foreign Office Minister Hugh Robertson on twitter @HughRobertsonMP
Follow the Foreign Office on twitter @foreignoffice
Follow the Foreign Office on facebook and Google+
Published 15 November 2013