Press release
FCO Minister visit to Morocco
Alistair Burt re-emphasises UK support for Moroccan reform, and looks to continued international co-operation and closer economic ties.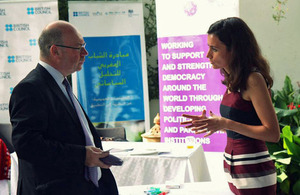 On 11 September, Foreign Office Minister Alistair Burt visited Morocco. Mr Burt held official meetings with the Head of the Government Abdelilah Benkirane and with Minister-Delegate for Foreign Affairs and Cooperation Youssef Amrani. Mr Burt also met representatives from the British Embassy's partners in civil society and the media.
Speaking at the end of the visit, Alistair Burt said:
I am delighted to have returned to Morocco for my fourth visit in the year which marks the 800th anniversary of diplomatic ties between our two countries. The UK and Morocco have a strong partnership based on shared values and a shared vision of a peaceful, secure and prosperous North Africa.

I am pleased that the UK is continuing to play a role supporting Morocco's ongoing reform. It is now two years since we stepped up our partnership programme with the Moroccan government and civil society. In that time, UK funding has offered support to Moroccan journalists and parliamentarians, helped young Moroccans engage in politics and debate, and shared UK expertise with the Moroccan government in crucial areas like transparency and justice reform.

The UK and Morocco also work closely together on a range of international issues, particularly as fellow members of the United Nations Security Council. Morocco plays an important role through its regional leadership on the Security Council and I welcome our cooperation on issues including the crisis in Syria and the situation in Egypt.

Our other focus in this relationship is economic. The Head of the Moroccan government, Mr Benkirane, and I believe there is potential to boost the economic relationship, finding more win-win ties between British and Moroccan companies in the areas where British organisations have experience and expertise. This will mean more jobs and opportunities, particularly for young people.

In my discussions with Moroccan Ministers on Wednesday, I warmly welcomed the strength of the partnership we have already, both bilaterally and in international forums like the United Nations. I expressed my strong support for the ongoing Moroccan reform process, and my hope that the partnership between our countries will continue to grow.
Further information
Visit the UK and Morocco website pages
Follow Foreign Office Minister Alistair Burt on twitter @AlistairBurtFCO
Follow the Foreign Office on twitter @foreignoffice
Follow the Foreign Office on facebook and Google+
Published 12 September 2013