News story
FCO Minister statement on Iraq violence
Minister for the Middle East and North Africa condemns violent attacks in Iraq and urges leaders to work to combat terrorism and violence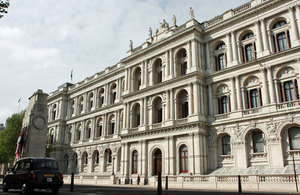 Following this week's violence in Iraq, Minister for the Middle East and North Africa, Alistair Burt, said:
My thoughts are with the families of those who have been killed or injured by the cowardly attacks in Iraq's cities this week. The British Government condemns these attacks and calls for those responsible to be brought to justice. The UK stands by the people of Iraq in rejecting extremism, and I urge all political, religious and community leaders to work together to combat terrorism and violence.
Further information
Find out about the UK's work in Iraq at the UK in Iraq website pages
Follow Foreign Office Minister Alistair Burt on twitter @AlistairBurtFCO
Follow the Foreign Office on twitter @foreignoffice
Follow the Foreign Office on facebook and Google+
Subscribe to the announcements feed or email alerts to get our latest news and announcements.
Published 17 May 2013