Press release
FCO Minister reiterates UK support for Lebanon
Minister for the Middle East Tobias Ellwood sets out UK support for Lebanon and calls on the international community to do more.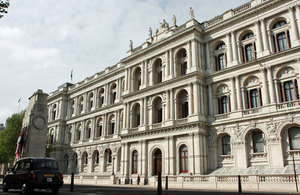 Following a meeting of the International Support Group for Lebanon, Mr Ellwood said:
As the conflict in Syria continues, and the refugee crisis worsens, the work of the International Support Group for Lebanon remains vital.
Since the start of the crisis the UK has provided around £300 million of support to Lebanon. We will provide a further £100 million to the UK's Syria crisis response, £25 million of which will support Lebanese efforts to directly help refugees, Lebanese host communities, and strengthen state institutions.
I call upon all UN Member States to contribute to the Lebanese Crisis Response Plan, which remains significantly underfunded, to ensure that Lebanon is able to remain resilient and stable under these pressures.
Lebanon urgently needs a President to provide institutional balance, to protect the country against political shocks, and to act as partner for the international community. I urge all parties in Lebanon to put aside factional interests for the good of the country which desperately needs a functioning government.
Further information
Follow Foreign Office Minister Tobias Ellwood on Twitter: @Tobias_EllwoodMP.
Follow the Foreign Office on Twitter.
Follow the Foreign Office on Facebook & Google+.
Published 30 September 2015