FCO Minister Jeremy Browne on situation in Tunisia
Minister says FCO is working to make sure that Britons are able to leave the country.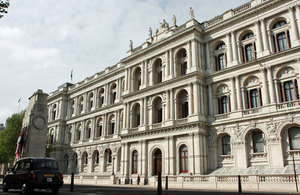 In an interview with the BBC the Minister for Consular Affairs said FCO staff have been working round the clock.
"They have been keeping in touch with people and my advice to people in Tunisia, British citizens, is to check our website, to keep in contact with our Embassy. We have had a very strong presence there from the beginning as well as coordinating that with London."
Mr Browne said the situation remained volatile.
"There has been looting, but this is not directed at foreigners. I mean this is a internal debate, a dispute within Tunisia, so what we're saying to British tourist makers is, you know, be cautious, keep your head down, don't get involved in situations which could potentially be dangerous for you, but we are being methodical, we're being systematic in the way that we approach this and so far mercifully we are not aware of any Britons who have been seriously caught up and hurt in the, in the disruption that's been taking place."
Published 16 January 2011