Press release
FCO Minister Hugo Swire welcomes prisoner releases in Burma
FCO Minister Hugo Swire has welcomed a presidential pledge to free all remaining prisoners in Burma.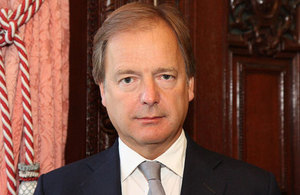 President Thein Sein made a welcome public pledge during his visit to London in July 2013 that by the end of the year there would be no prisoners of conscience in Burma. Over one thousand political prisoners have been released since 2011, benefitting the country as a whole as it undergoes change and reform.

I welcome yesterday's announcement that the President has ordered the release of all prisoners and persons facing trial under political sections and look forward to their release over the next few days. I note, however, that there are individuals still in jail whose status as political prisoners are disputed. I urge continued dialogue between the government and civil society to resolve these remaining cases as a matter of urgency.

I call, in particular, for the releases of Dr Tun Aung and Kyaw Hla Aung, recognised widely as prisoners of conscience, and call for a review of the legal procedures used in the detentions and trials of several hundred prisoners in Rakhine State following the violence of 2012.

The Political Prisoners Review Committee set up to review political prisoner cases has demonstrated constructive collaboration between government and civil society; I hope that a comprehensive and transparent mechanism will remain in place to review remaining cases and support former political prisoners as they reintegrate into society.

I remain very concerned by the continued arrests, detentions and sentencing of political activists in Burma. I believe the Peaceful Assembly and Procession Law must be reviewed to ensure that it is in line with international standards. The right to peaceful freedom of expression and freedom of association is a fundamental part of any inclusive and democratic society.

Burma has made significant progress since 2011. As a friend of the Burmese people I hope that positive change will be maintained and accelerated in 2014.
Further information
Follow Foreign Office Minister Hugo Swire on twitter @HugoSwire
Follow the Foreign Office on twitter @foreignoffice
Follow the Foreign Office on facebook and Google+
Published 31 December 2013