FCO Minister hears from NGO's on Somalia
Foreign Office Minister Henry Bellingham has held discussions on Somalia with leading NGO's and academics ahead of the London Conference on Somalia on 23 February.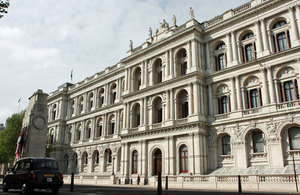 During a meeting on 2 February, Mr Bellingham heard from a wide range of representatives from aid agencies and charities working in Somalia, including many Muslim charities, to experts in academia. The delegates debated how the international community could more effectively support progress towards peace and stability in Somalia and shared their views on the political process in Somalia as well as on security and justice issues and wider stability and recovery.
Opening the discussion Mr Bellingham said:
"Seeking out a range of views and ideas in the run up to the London conference, on the challenges facing Somalia and its future, is vital. NGOs have a unique insight into some of the challenges - and opportunities - Somalia presents."
The event is one of the several planned over the next three weeks as British ministers deepen their engagement with academia, civil society and the Somali diaspora and gather views on the agenda of the Conference. Only governments and multilateral organisations are invited to the Conference itself as the conference is about high-level international coordination, but the British Government is keen that its approach reflects wider opinion and concerns.
Speaking about the aims of the conference, Mr Bellingham added "Somalia needs a step-change in effort - both from the international community, but also Somalia's political leaders. And that's what the UK is injecting into the process - inviting senior representatives from over 40 countries and international organisations to come together in London to discuss how the international community can step up its efforts to bring peace and stability to Somalia"
Somalis and others are encouraged to follow the preparations and have their say via the website of the British Office for Somalia on Facebook and Twitter, following Twitter hashtag #LDNSomalia. FCO staff are monitoring these channels and you can see how the Special Representative has already picked up some of the public comments for further debate on his blog.
Published 3 February 2012