FCO Minister hails UN Human Rights Council resolution on human rights, sexual orientation and gender identity
"We are committed to ensuring that all people are free to live their lives in a safe and just environment."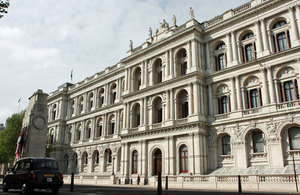 FCO Minister Jeremy Browne said:
"I am delighted at today's first ever resolution at the UN to focus on human rights violations committed against individuals, wherever they live, on the basis of sexual orientation or gender identity. This is a groundbreaking achievement and one which should be celebrated. I congratulate South Africa for showing leadership on this important issue.
"I am pleased by the role the UK has played to ensure the international community recognises the persecution and discrimination that lesbian, gay, bisexual and transgender people continue to suffer. We are committed to ensuring that all people are free to live their lives in a safe and just environment. We will continue to work with governments and civil society to ensure constructive and open dialogue on these issues at the UN."
Published 17 June 2011