Press release
FCO Minister congratulates OPCW on winning Nobel Peace Prize
Hugh Robertson congratulates the OPCW on winning the Nobel Peace Prize and for its tireless work to rid the world of chemical weapons.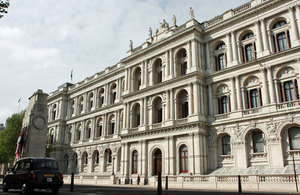 Reacting to the news that the OPCW has been awarded the Nobel Peace Prize, Minister for Middle East and North Africa Hugh Robertson said:
I congratulate the Organisation for the Prohibition of Chemical Weapons (OPCW) on winning the Nobel prize.

Since the Organisation began in 1997, enormous progress has been made in achieving near universality of the Chemical Weapons Convention (CWC) and destroying the majority of chemical weapons stockpiles worldwide. With the inclusion of Syria, there are now 190 parties to the Convention and the Organisation has overseen the destruction of some 60,000 tonnes of chemical weapons to date.

The OPCW and the States parties who have signed up to the CWC continue to work together to rid the world of the scourge of chemical weapons. We have long pressed for universality of the CWC. The recent use of chemical weapons by the regime in Syria only serves to make this priority more urgent.

The OPCW has moved quickly to facilitate the destruction of Syria's chemical weapons stocks. Destruction will be a major challenge in the context of the Syrian conflict and ambitious timelines set out in UN Security Council Resolution 2118.

The UK is providing an initial contribution £2million to support the work of the OPCW in Syria and we stand ready to provide further assistance.
Further information
Follow Foreign Office Minister Hugh Robertson on twitter: @HughRobertsonMP
Follow the Foreign Office on twitter @foreignoffice
Follow the Foreign Office on facebook and Google+
Published 11 October 2013