Press release
FCO Minister concerned by attacks on Libyan Government buildings
Alistair Burt deplores bomb attacks in Libya and reiterates UK support to Libyan Government and people in tackling insecurity.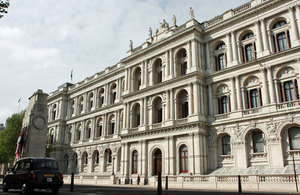 Speaking during his visit to Tunisia about attacks in Benghazi and Tripoli on 11 September, Foreign Office Minister for the Middle East and North Africa, Alistair Burt said:
I am shocked and deeply concerned by the bomb attack on the Ministry of Foreign Affairs building in Benghazi on 11 September 2013, and the attempted attack at the same time on the Ministry's headquarters in Tripoli. It is fortunate that fatalities were avoided and that the prompt action of security officials at the Ministry's premises in Tripoli ensured that the explosive device could be defused before it could cause any harm.

I deplore the attacks and reiterate my support for the efforts of the Government of Libya to protect itself and the Libyan people from those who wish to cause harm and insecurity. Yesterday's explosion was particularly grave for the people of Benghazi, who have had to endure significant security challenges in recent months. The British Government expresses its solidarity with the people of Benghazi, the city's police and army, and all those across Libya who wish for a secure and prosperous future for the country. The UK remains committed to working with the Libyan Government and people to improve security for all Libyans and, more widely, to assist Libya in its ongoing transition to democracy.
Further information
Follow Foreign Office Minister Alistair Burt on twitter @AlistairBurtFCO
Follow the Foreign Office on twitter @foreignoffice
Follow the Foreign Office on facebook and Google+
Published 12 September 2013