News story
FCO Minister comments on Magnitsky verdict
David Lidington warns that convicting someone unable to defend themselves is bound to add to negative perceptions of the Russian judicial process.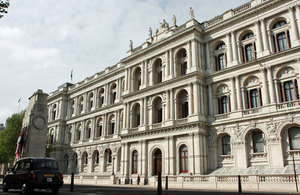 Commenting on the guilty verdict in the trial of the late Sergei Magnitsky, David Lidington, the Foreign Office Minister with responsibility for Russia, said:
The government has long made its concerns clear on this case and called for a full and transparent investigation into the tragic death of Sergei Magnitsky. The Russian authorities have taken the exceptional step to try him posthumously. Convicting a dead man who cannot by definition defend himself is bound to add to negative perceptions of judicial process in Russia. We will support all efforts to build confidence in the Rule of Law in Russia and to ensure that such cases cannot happen again.
Further information
Follow Foreign Office Minister David Lidington on twitter @DLidington
Follow the Foreign Office on twitter @foreignoffice
Follow the Foreign Office on facebook and Google+
Subscribe to the announcements feed or email alerts to get our latest news and announcements
Published 11 July 2013