FCO Minister calls for immediate halt to fighting between Sudan and South Sudan
Minister for Africa Henry Bellingham comments on reports of increased fighting in the border area between Sudan and South Sudan.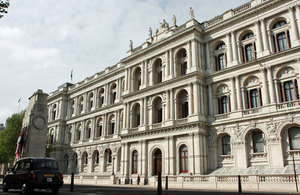 Minister for Africa, Henry Bellingham, said:
"This cycle of provocative and irresponsible acts by the militaries of both countries must stop immediately. The move by the South Sudanese armed forces to occupy Heglig in Sudan is completely unacceptable, as are the continuing bombings of South Sudanese territory by Sudan: I condemn all such actions which threaten economic stability and the livelihoods of ordinary people in Sudan and South Sudan.
"I call on both sides to establish a ceasefire and withdraw all forces immediately from one another's territory, in line with the agreement on non-aggression that they signed in February, and to honour their commitment to establish the Joint Border Verification and Monitoring Mission without further delay.
"Both sides need to demonstrate that they are committed to resolving their differences through negotiations supported by the African Union High Level Implementation Panel, and to deliver on their promise to bring a new spirit of cooperation to the talks. These latest events underline the need for Presidents Bashir and Kiir to meet as soon as possible and conclude an agreement on de-escalating tensions. Any attempt to strengthen their position through military action will only increase the risk of a broader conflict, undoing the hard-won progress under the Comprehensive Peace Agreement. Neither government should expect to receive support or understanding from the international community if they deliberately lead their country down this path.
"The involvement of Sudanese rebel movements in recent fighting at the border highlights the urgent need for the Government of Sudan to put in place a political process to address the conflicts in Southern Kordofan and Blue Nile. Both governments must renounce their support of armed groups in the territory of the other state."
Published 11 April 2012