Press release
FCO Minister calls for calm in Ukraine and condemns violence
Minister for Europe David Lidington calls for calm followed by "urgent and genuine steps" to address the causes of discontent in Ukraine.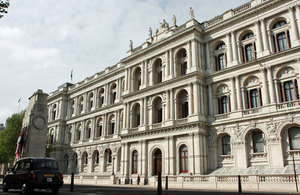 Speaking today, the Minister for Europe said:
I am appalled by today's reports of serious violence and deaths in Kyiv. This has no place in a European democracy which is also an important member of the OSCE and Council of Europe. I condemn the violence and urge all sides to immediately de-escalate the situation. The last few days have shown some progress, with the release of detained protesters and the withdrawal of protesters from the Kyiv City Council building. This was a step in the right direction, and I urge all parties to return to the path of compromise and genuine negotiation.

Ukraine needs to see a return to stability that allows the government to tackle the underlying causes of the protests: corruption, impunity, and the lack of checks and balances within the current governmental system. There must be an absolute commitment to the rule of law, as well as respect for fundamental human rights and civil freedoms. The time is right for the lawmakers of the Verkhovna Rada to back a serious and committed effort to form a new government that can command the respect of all Ukrainians. One which has a credible agenda to introduce the reforms required to tackle the acute economic and political challenges Ukraine is facing.
Further information
Follow Foreign Office Minister David Lidington on twitter @DLidington
Follow the Foreign Office on twitter @foreignoffice
Follow the Foreign Office on facebook and Google+
Published 18 February 2014