Press release
FCO marks International Holocaust Remembrance Alliance first plenary meetings under the UK chairmanship
Senior FCO Minister, Baroness Warsi hosts high profile dignitaries to mark the work of the International Holocaust Remembrance Alliance.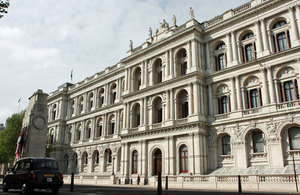 Today, Baroness Warsi the UK Minister with responsibility for Human Rights and United Nations, met with representatives from 31 countries who are participating in the first Plenary meeting of International Holocaust Remembrance Alliance (IHRA) under the UK Chairmanship, running from 12-15 May 2014 in London.
The event hosted by Baroness Warsi at the Foreign and Commonwealth office, was attended by Sir Andrew Burns, the UK Envoy on Post-Holocaust Issues and current chair of the IHRA, the eminent scholar Prof Yehuda Bauer of Israel, experts from four continents and members of the Prime Minister's Holocaust Commission. Baroness Warsi spoke about the work of the International Holocaust Remembrance Alliance in promoting international collaboration on Holocaust education, research and remembrance.
Following the event, Baroness Warsi said "I am delighted that we are Chairing the International Holocaust Remembrance Alliance this year. The UK is unswerving in its commitment never to forget the horrific events of the Holocaust. I'm proud through the work of the Department of Communities and Local Government, the Department for Education and the Prime Minister's Holocaust Commission, we are ensuring that future generations continue to learn its sobering lessons about the nature and roots of prejudice."
The purpose of IHRA is to bring political and social leaders together to learn from the Holocaust for the benefit of citizens of member countries and the international public. IHRA and the UK Chairmanship look forward to further progress and concrete outcomes from the London meetings.
This week's plenary sessions, will bring together, over four days, experts and policymakers from around the world representing 31 member countries, five observer countries, and six permanent observer organizations. They will discuss IHRA's multi-year work plan on the killing sites, access to archives and educational research, its grant funding strategy, and its outreach to countries around the world. IHRA experts also met with members of Prime Minister David Cameron's Holocaust Commission, and continued to work on crucial topics such as antisemitism and Holocaust denial, the genocide of the Roma, and the Holocaust and other genocides.
The unprecedented character of the Holocaust will always hold universal meaning, and IHRA member countries pledge to strengthen their efforts to promote education, remembrance and research about the Holocaust.
Further information
Follow Foreign Office Minister Baroness Warsi on twitter @SayeedaWarsi
Follow the Foreign Office on twitter @foreignoffice
Follow the Foreign Office on facebook and Google+
Published 13 May 2014