FCO hosts discussion of 2010 Human Rights and Democracy Report
Foreign Office Minister Jeremy Browne discussed Human Rights and Democracy: The 2010 FCO Report with NGOs and members of the Foreign Secretary's Human Rights Advisory Group. You can submit questions about the report to the Minister online.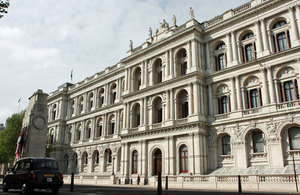 NGOs and independent human rights experts, including some members of the Foreign Secretary's Advisory Group on Human Rights, attended the meeting to discuss their views on the 2010 report. Organisations such as Human Rights Watch, Equality Now and Christian Solidarity Worldwide were invited to feed in their thoughts on the 2010 report and to discuss where the FCO should focus its human rights work over the coming year. Jeremy Browne is the Minister with responsibility for human rights policy in the FCO. He will respond to a selection of questions from the public about the report - you can ask your question here.
Human Rights and Democracy: The 2010 Foreign & Commonwealth Report takes a comprehensive look at human rights issues the FCO has been engaged with around the world in 2010. It highlights human rights violations and helps inform our work, and is the latest step in making more of our human rights reporting available online. The report features 26 countries of concern, with Chad, Eritrea, Yemen and Libya included for the first time in light of the human rights issues in those countries during 2010. It reflects how human rights are central to all of the Coalition Government's foreign policy priorities such as promoting Britain's prosperity and safeguarding our national security.
For the first time, we are publishing updates online every three months to highlight key human rights events and actions that take place in each of the featured countries of concern. This will allow users to follow human rights developments in these countries, as well as the actions the UK is taking. The first of these quarterly updates covering the first months of 2011 is available online at www.fco.gov.uk/hrdreport. For the first time, users can also comment on the report and read, share host the sections that interest them .
Published 12 April 2011