Press release
FCO regrets failure of South Sudan leaders to reach a peace agreement
Minister for Africa disappointed at failure of South Sudan's political leaders to reach agreement in peace talks.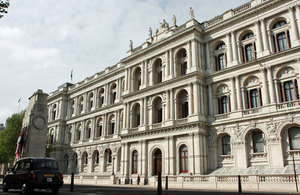 Foreign Office Minister James Duddridge said:
South Sudan's leaders have again failed the people of South Sudan by refusing to make the compromises necessary for peace. I strongly regret the lack of political leadership by President Salva Kiir, Opposition leader Riek Machar, and their respective sides to resolve this conflict. Along with the many friends and partners of South Sudan, the UK continues to fully support the Intergovernmental Authority on Development's efforts to bring a negotiated end to this senseless crisis.

The conflict in South Sudan has exacted a terrible cost over the past 14 months. A humanitarian catastrophe continues, with close to two million people having been displaced, severe food insecurity, and economic, security, and humanitarian costs for the region. There is no excuse for further fighting and we will ensure that those who commit acts of violence—or otherwise undermine efforts toward peace—are held accountable. We welcome the UN Security Council's planned review of the situation, building on the resolution it passed this week to establish a sanctions regime.

On 6 March the Intergovernmental Authority on Development (IGAD) Chairman called on regional and international partners to work together to reinvigorate the peace process and agree a common approach towards an end to the conflict. The United Kingdom and its Troika partners support them in this regard, and will work with IGAD, the African Union, and other international partners in the coming period. We must speak with one voice, making clear our collective resolve to assist the South Sudanese people in ending this tragedy.
Further information
Published 7 March 2015