News story
FCO concerned by Iran's installation of advanced centrifuges
Foreign Office Minister Alistair Burt urges Iran to cooperate fully with the International Atomic Energy Agency.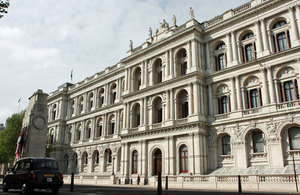 Foreign Office Minister Alistair Burt said:
Iran's installation of more advanced centrifuges at its enrichment plant at Natanz is of serious concern. It represents yet another breach of United Nations Security Council and IAEA Board resolutions, and is another signal that Iran has no intention of providing the necessary reassurance to the international community that its nuclear programme is for purely peaceful purposes.
The timing of this move – immediately before the IAEA Board of Governors meeting and before E3+3 talks with Iran in Almaty, Kazakstan next week – concerns and disappoints us. We trust that Iran will come to talks in Almaty willing to negotiate meaningfully, and we urge Iran to respect all relevant resolutions and cooperate fully with the IAEA.
Further Information
Published 21 February 2013