News story
FCO concerned at executions in Saudi Arabia
Foreign Office Minister Alistair Burt expresses concern over reports that seven prisoners have been executed.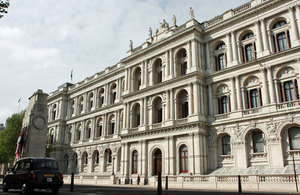 Commenting on reports that Saudi Arabia had executed seven prisoners convicted of armed robbery, speaking from Egypt, Foreign Office Minister for the Middle East Alistair Burt said:
The death penalty is a human rights priority for the UK. As I have said previously, the UK opposes as a matter of principle all use of the death penalty, whatever the crime committed. We registered our concern at reports of the planned executions in this case with the Saudi Arabian embassy last week and again yesterday, reiterating our opposition to the death penalty and requesting that leniency be shown, but to no avail. The alleged circumstances surrounding the executions cause enormous damage to Saudi Arabia's reputation internationally and we will press the Saudi authorities once again to reconsider their application of the death penalty.
Further information
Published 13 March 2013