Press release
FCO announces over £1.5m in life-saving equipment to Syrian rescue teams
Tobias Ellwood announces handover of over £1.5 million worth of life-saving equipment for use by Syrian search and rescue teams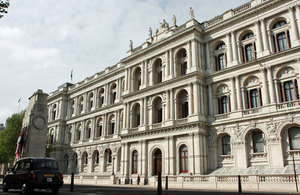 Helmet cameras, medical packs, stretchers, generators, drills, concrete cutters, lifting equipment, fire extinguishers and laptops are just some of the life-saving equipment which has been gifted from the UK to the provincial networks of search and rescue teams who are working in opposition held areas of Syria.
Commenting on the handover, Minister for the Middle East Tobias Ellwood said:
I am pleased to announce that over £1.5 million in non-lethal equipment has been formally handed over for Syrian search and rescue teams protecting ordinary Syrians from the brutal tactics of Assad's regime.

This equipment will help provide essential support to the teams in order for them to carry out search and rescue, fire-fighting and emergency first aid.

These civil defence teams, 400 of whom have been trained by the United Kingdom, are bravely operating in some of the toughest areas of Syria, including Aleppo, which is bearing the brunt of appalling indiscriminate attacks by Assad's forces, who routinely use barrel bombs to target civilian areas.
Further information
Follow Foreign Office Minister Tobias Ellwood on twitter @TobiasEllwoodMP
Follow the Foreign Office on twitter @foreignoffice
Follow the Foreign Office on facebook and Google+
Published 4 September 2014