Press release
FCO and DFID Ministers mark London Pride
All people should live free from discrimination and violence, say Baroness Anelay and Baroness Verma .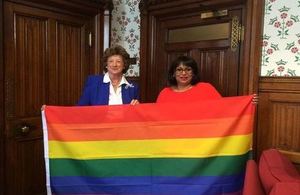 Marking London Pride in 2016, Foreign and Commonwealth Office Human Rights Minister, Baroness Anelay, and Department for International Development Minister, Baroness Verma said:
We are proud to support Pride in London and the theme of this year's campaign #NoFilter. All people everywhere are born free and equal and should be able to live free from discrimination and violence.
Pride is about honouring the achievements of lesbian, gay, bisexual and transgender (LGB&T) people and the remarkable contribution they make to our societies and economies. It is also a time for poignant reflection when we remember those who have lost their lives solely because of who they are or whom they love, including the 49 people who died in the hate-filled attack in Orlando this month.

This murderous act serves to remind us that we still have a long way to go before LGB&T people can live freely and are accepted everywhere and by everyone without exception.

We are committed to promoting and protecting the rights of LGB&T people wherever they may live in the world. This year, we are pleased that around £900,000 of the Magna Carta Fund for Human Rights and Democracy will be dedicated to projects working with LGB&T communities around the world.

We will continue to work together across Government and side-by-side with our partners and with civil society around the world, to fight for this acceptance and for an end to violence and discrimination against LGB&T people.
Further information
Follow Foreign Office Minister Baroness Anelay on Twitter @JoyceAnelay

Follow Department for International Development Minister Baroness Verma on Twitter @Baroness_Verma

Follow the Foreign Office on Twitter @foreignoffice

Follow the Department for International Development on Twitter @DFID_UK
Information for editors
Baroness Anelay is Human Rights Minister with responsibility for promoting the Foreign Office's work on LGB&T rights

Baroness Verma is DFID Minister with responsibility for inclusive societies (civil society, LGBT, faith, disability, youth, ageing and engagement).

The projects will aim to: improve institutional protection against discrimination; remove or amend discriminatory laws, policies and practices; reduce hate speech, violence or harassment based on discrimination; and building the capacity of civil society groups to advocate for the protection of the rights of LGB&T people locally.

More information on Magna Carta Fund for Human Rights can be found here.
Published 25 June 2016